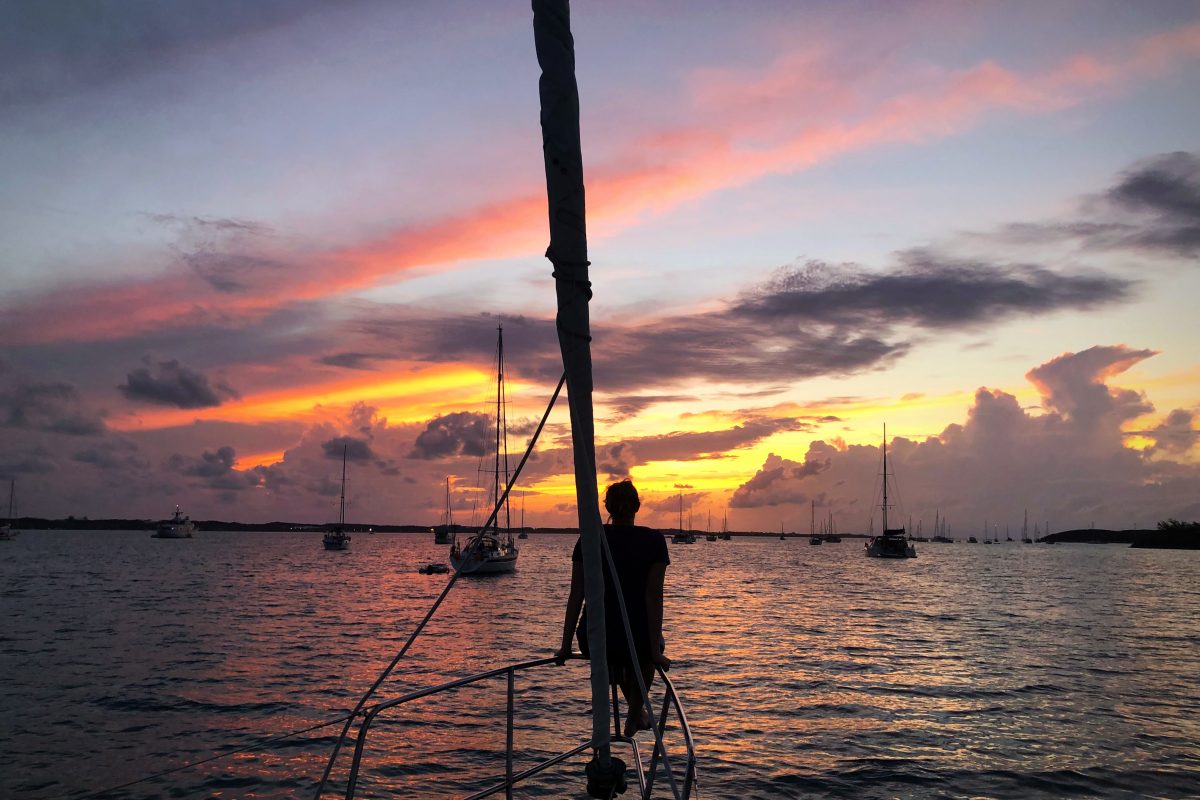 20 May 2018
Adventures in George Town
The capital of the Exumas is George town, the largest island in the chain where cruisers congregate through out the sailing season. This town has become our "home" away from home over the past month. Mainly because we've had THREE boat guest fly in to visit us from April to May and being here has made our liveaboard lives more convenient for that. BUT we really do like it here!
It's a great cruising community where we've made lots of friends, it offers several grocery stores, fuel, laundry, activities, and FREE RO water at the dinghy dock! Plus the people of George Town have been incredibly kind. So even with our crazy to-do lists while getting ready for each new guest, we've managed to sneak in some fun too!
For BUSINESS in George Town: 
We missed out on the awesome laundry in Blackpoint but The Corner Laundromat is the first place we've been to where the dryers actually dried everything, like completely! No damp towels or sheets! 🙂 Miss Lee is the owner and operator, she provides laundry service drop off at $10 per load or do it yourself for $7. You can also purchase fresh baked bread and drinks inside. Open till 4pm M-F.
Exuma Market (the main grocery store, with dinghy dock attached) is great! The best we've been to in the Bahamas. Expect that everything is overpriced and to carefully look at expiration dates but we've been able to buy fresh produce! Lettuce, tomatoes, oranges, avacados and peppers! There's also Shop Rite, located next to Eddie's Edgewater. We also took the rental car up to Prime Island Meats in Hoopers Bay, talk about selection: Rotisserie chicken, deli meats + cheeses, plus a tasty crab salad!
Top II Bottom is the hardware/general store that offers a mix of everything from plumbing to electrical, household items, toys, snorkeling gear, hardware, fishing, etc. We've been in a few times to purchase small parts, boat cleaners, and bug sprays. It's worth a stop in.
The dinghy rides in from Kidds Cove are wet, not to mention sometimes choppy! So I always had a water proof jacket on or in my backpack. There was a particular gentlemen on a Minn's powerboat who reallyyy liked to disregard the 'No Wake' sign going in/out of the tunnel…grrr. However, our anchorages near Monument and Sand Dollar Beach were pretty comfortable.
Re-filling water and diesel was simple, for water you can just drive your dinghy up to the spout with your cans, and for diesel there's a Shell station where you can dock your dinghy then take your jerry cans up to fill. I think we did about 4 dinghy trips for diesel and 5 for water each time! Holding 160 gals, it's a long day of running back and fourth.
L&P trash disposal, you can drop your trash off in the back of the truck (near Island boy cafe) The driver side window is slightly cracked open for a $2 donation. Just drop your bills in.
8am cruisers net on channel 68, we made this part of our morning coffee ritual. Weather updates, buy-sell-trade, and community activities like beach yoga, water aerobics, music lessons.
We purchased wifi at the Aliv store (North of the Peace & Plenty) the 30 minutes worth of air conditioning as we got our mifi set up was pretty refreshing. Haha. They accept cash only.
For FUN in George Town: 
Stocking Island offers some great hiking adventures. We hiked a few trails up to Monument Hill and Sand Dollar beach. The views are spectacular, you can see stretches of beaches, coves, sanddunes, and canopy of rain forrest.
Starfish Bay is on the north end of Stocking Island. We anchored our dinghy in about waist deep water, jumped in with our mask and saw 30 of the most beautiful and unique red starfish, measuring more than a foot across. Be sure not to take them out of water for longer than a quick photo op.
Rental Car to Little Exuma, we spent the day driving the island with our friends @SVRADIOWAVES and enjoyed a stop at Tropic of Cancer Beach which has become my absolutely favorite beach we've encountered here in Exuma. Long stretch of white powder sand with beautiful turquoise waters. Pack some snacks/drinks as there aren't any close by facilities. We continued on with lunch at Santana's Bar and Grill, highly recommend you try the cracked lobster! Yum! Then split the rum cake from Mom's Bakery next store.
Family Island Regatta, so cool that we got to experience the 65th annual festivities in April (24-28). George town really comes alive during regatta week! So many more people out and about. In the weeks prior they built up a street full of food shacks, bars, and shopping located near the bleachers. We had a great time indulging in the food and had the best seats right from our boat and dinghy all while listening over the radios for a play by play of each race. Very exciting!
Fish Fry shacks, just west of George town (longer and dark dinghy ride) it's a collection of little restaurants that cook up some of the best and freshest food on the island. It's extremely low key, authentic, and memorable. Fun part is wandering around choosing where to eat and sharing plates so you can try a little bit of each. Charlie's, Shirley's, and Hasty's Home Plate were our favorites!
Chat-n-Chill is nice for socializing, volleyball, yoga, and seeing the stingrays. In my opinion, it's over rated and I didn't care for the staff here, I think they just might be over the whole tourist thing so each visit I've found myself having to get someones attention just to get service but don't expect a smile when you do. We brought our own beers over one day, while we sat outside and played games with friends. The highly advertised Sunday Pig Roast is $22 a plate, not the best meal we've had in George Town. Best meal is Eddy's Edgewater, the baked chicken and shrimp alfredo are incredible! Go early, they run out!
Peace & Plenty hotel offers a Thursday night rake-n-scrape plus Bahamian BBQ dinner! Sadly, we never got to go but we heard the ribs and rum punch are delicious! We however stayed one night at this newly renovated charming hotel ($200 a night). Very clean, quite, fast wifi, and comfy bed…We took advantage of the hot showers and air conditioning as we lounged in our robe and slippers! 🙂
George Town, you were good to us but we're anxious to get moving again!
Cheers from the Bahamas!