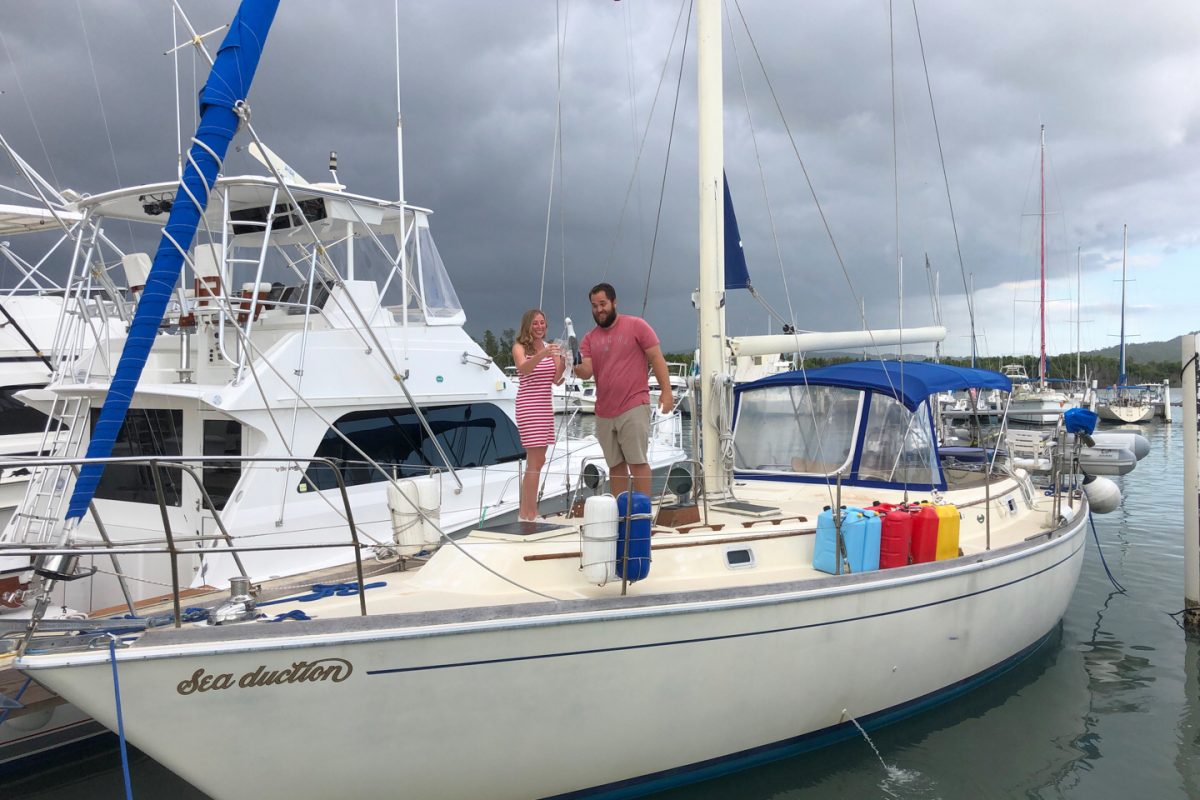 30 Mar 2019
Cheers Puerto Rico
The Mona Passage is behind us. It's time to celebrate! Celebrating 2,545 nautical miles together AND that we are no longer island leaping but island hopping, again! Wooooooooooooooo Hooooooooooooo! Cheers! 
We've been enjoying a bit of marina life/land life the past two weeks. After crossing over to PR, we left our boatie home (for the first time ever) and spent a few days in NE Georgia for a wedding but before we flew out we did some local exploring and road tripping along the west coast of Puerto Rico!
Marina Pescaderia
Owner, Jose Mendez  is such a nice guy. He and his staff will make you feel welcomed in English or Spanish. Marina Pescaderia is also the first "Green Marina" we've come across – solar lighting, low volume toilets, and recycling areas. We've really enjoyed our stay!
Including:
Wifi
Laundry – $2 a load (you can get quarters from the marina office)
Warmish showers
Amazon package delivery
Docks are fixed fingers, but in great condition.
La Bodeguita del Puerto – Excellent chicken tacos and gathering spot for cruisers
Rental car $38 a day, highly recommend.

If you need to get to/from the airport, renting a car is actually cheaper than a taxi ($150!) Jose can help arrange it.
Puerto Real / Cabo Rojo, PR
Colorful, quite little town and fishing village that offers a lot within walking distance. According to legend, the name Cabo Rojo (Red Cape) was given by Christopher Columbus himself because of the reddish tint of the seaside cliffs along its coast. We've just been soaking up our time in this charming town, enjoying all the comforts of the U.S. (i.e regular cell phone service)
Mercados Bakery
Wowww! This place is amazing. We had breakfast and lunch here, as well as several visits for the pastries – freshly made everyday! Only a 10 minute walk from the marina.
That box of goodness features an Apple fritter, Bavarian cream, Coconut cake, Glazed Criossant, Chocolate cream, and Cheesecake!
Colmado El Arrecife
On your way to get some delicious pastries, theres a fantastic empanada stand and we've tried just about everyone single one – the lobster is my favorite. If you can't tell lately, I'm having a love affair with empandas!
Supermercado Plaza Del Puerto
Also within walking distance just up the road from Mercados Bakery. For a small market, it has a fairly good selection. We picked up a few essential items and ended up chatting with a guy who also lived in San Diego. He gave us some great recommendations. How random.
Javiers boat/marine supply store
We bought a secondary float switch for our Bilge, grrr…that thing. It's a small shop with a lot of off brands but theres variety.
Puente de Piedra 
Spectacular view and off the beaten path! Natutal bridge, surrounded by bright red limestone cliffs.
To get here, you have to visit the los Morrillos lighthouse. Theres a small trail located towards the beach that'll lead you to an overlook, since Hurricane Maria its been prohibited to go on top of the bridge due to hurricane damage, so be careful. If you keep hiking the trail you'll circle around the backside overlooking the salt flats.
Roadtrip: West Coast of Puerto Rico
A lot of cruisers immediately continue on South to Boquerón but before we do that, theres a TON to explore above the port of entry at Marina Pescaderia. So we rented a car and went 180 miles with a lot of fun stops! We made a big loop, which allowed us to see the coast and mountains. The mountains were probably our favorite. The elevation is impressive, reaching over 4,000 ft. Beautiful drive under a canopy of trees, on winding roads.
Joyuda
A must for seafood lovers! And I'm soooo bummed that we didn't get to spend the day eating our way through this quaint little town. We got an early start so we were full from breakfast and things weren't open yet. It's a 2-mile stretch on Route 102 with waterfront seafood restaurants, bars and roadside finger foods and coffee! I hope we'll make it back through here one day.
Our Google picks:
Vista Bahia
El Bohio
Mao's Seafood
Bahía de Añasco/Rincón
There's a lookout tower located right on Route 115 as you drive towards Rincon. Its about 3 stories high, so you get a breathtaking aerial view of the ocean and the Mona Passage. Definitely worth a stop!
Corona Pro Surf
Enroute to see the Faro Punta Tuna lighthouse located Northwest of Rincón, we stumbled upon the 34th edition of the Corona Extra Pro Surf competition at Domes Beach – PRs largest event of the year! So we decided to grab a Corona and check it out. It was jam packed! The locals and attendees bring big coolers and set up their chairs, tents, and umbrellas along the beach. Theres commentary of all of the action, music, and mingling up at the Surf Village, the main area that featured a ton of kiosks with local crafts and food.
We didn't end up seeing the lighthouse with the massive crowd of people attending the surf competition, but it is free and open Wednesday to Sunday from 9am to 4pm.
Rancho Carbon Express
We were spoiled with some incredible food in the Dominican Republic and given the fact that Puerto Rico is similar to mainland America we weren't really sure what was in store for us food wise. We were so excited to see this place on the side of the road! Our eyes lit up seeing this small shack with a long line of people and BBQ smoke for miles. We both just looked at each other and said, "lunch time!"
AMAZING CHICKEN!!! You absolutely must stop here for lunch – $6 a plate and a lot of food for the price. Brent and I ended up sharing. Open 8am-3pm daily.
Isabela/Pozo de Jacinto
Isabela is a beautiful coastal town located on highway 466, known for some of the best surfing in Puerto Rico. We stopped to take a car break, have a cocktail and (Brent) watch the Gator basketball game at Sonido del Mar. You can see the surfers and beautiful views of Jobos Beach from the restauraunt. The beaches and coastline of Isabela are really pretty to see, but not all of it is good for swimming due to sharp rocks and rip currents. Particularly, Pozo de Jacinto – a natural rock cavern with a legend attached to it.
Note: Getting parking at Jobos Beach is tough. Most parking is along the roadside and very limited.
The legend goes: Jacinto was moving some cows from a pasture in the area. He was leading a cow with a rope, which was tied around his hand. The cow got spooked, ran over to the rocks and into the hole, taking Jacinto with it. Both perished.
So if you go to the edge of the hole and yell in "Jacinto, give me the cow", Jacinto will respond by splashing you with sea water. Jacinto DID splash us! And it was really awesome to see…we did not come home with a cow. Haha.
Gozalandia Falls, San Sebastian
Located in the town of San Sebastian, the waterfalls (cascadas or saltos, in Spanish) are open from 9-6pm daily. Getting here was an adventure, easy to find, but the road gets pretty steep in some spots. As you arrive theres a parking attendant, it was $5 to park. Once Parked, it was a short walk toward a man-made pond with a pavilion and small restauraunt/bar. Then made our way down a set of paved stairs with a pretty deep decent. There are two falls here, both have large pools of clear, cool water. There was a good amount of people here having a picnic, playing music, and hanging out on the large rocks.
The lower waterfall is very picturesque and the pool here is deep enough, we watched two guys with their GoPros jump off of the rocks into the water (about 50-ft). After leaving the lower waterfall, you make a left and follow the sidewalk all the way up to the second waterfall. The top one has a rope you can swing into the water. However, the water levels were too low, but during the rainy season I'm sure it's a lot more fun.
Ponce
Ponce is the big city along the south coast of PR – the Super Walmart and Home Depot are here! Along with every American chain restaurant, movie theaters, traffic lights, and lot of shopping plazas. Being in Ponce with a car transported us back to "pre-boat life". It felt like we could have been in any city in the U.S. Some neighborhoods reminded us of Florida or California. It was surrreal.
After a full day of driving, we began to play the "I don't know, what do you want for dinner" game. And Brent being the fantastic guy he is, said he knew! Sushi! Google directed us to Izumi Sushi a simple, cozy, hole in the wall. The rolls were great – fresh and delicious!
We also provisioned at the Super Walmart, got a new wifi hotspot with Boost Mobile, AND picked up some goodies at Marshalls! 
Hurricane Maria
You can tell the communities have been working hard restoring tourist areas in order to give visitors a great experience. Sadly, we noticed lots of blue tarps still covering many homes, especially in the central mountains. I'm sure those that have been to PR prior to Hurricane Maria would notice the changes caused by the damage, but as first timers we found it to be just as beauitful.
More adventure awaits, were excited to get this party started along the South Coast of PR!
Cheers from Puerto Rico!