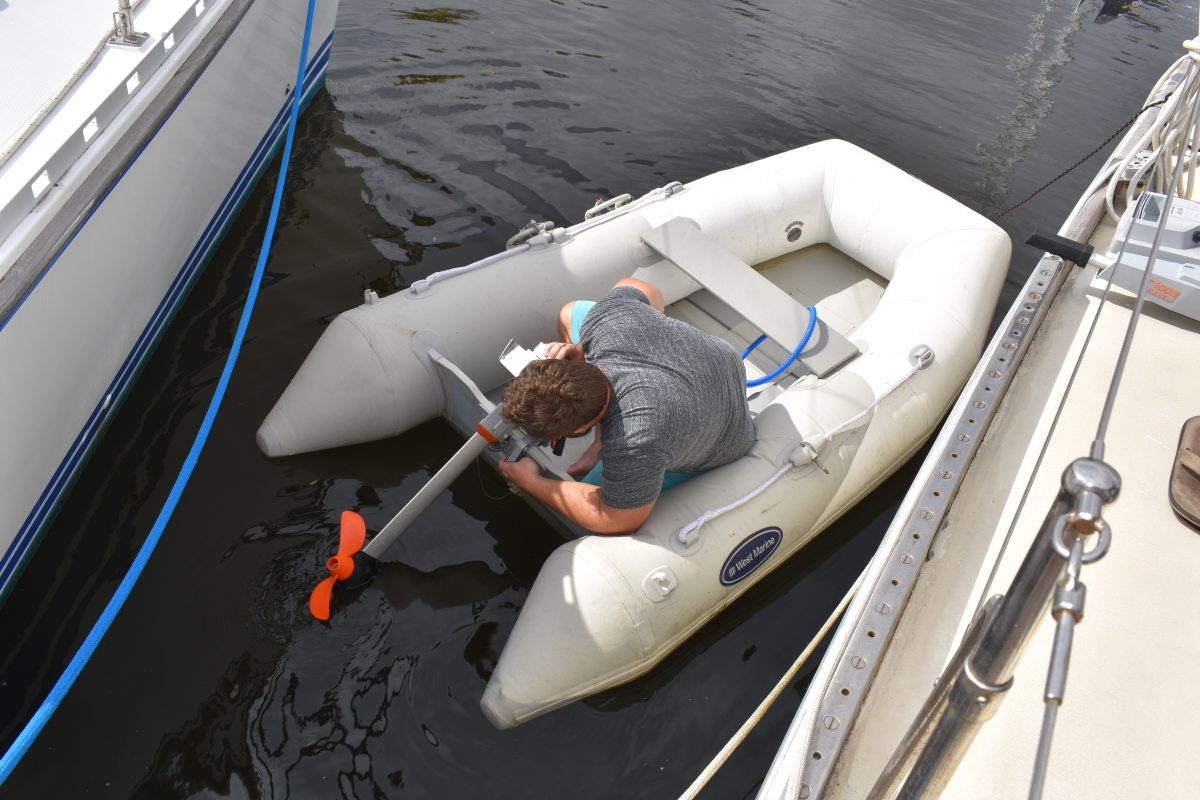 10 Jan 2018
Choosing a dinghy
Right before our cross country road trip, we found a great deal on an electric outboard motor. Our dinghy previously had a Tohatsu outboard motor which was loud, heavy, stinky, not to mention unreliable. We ended up getting a second free dinghy boat out of the deal, score! Which means we now have two. Surprisingly, there are several different types and options available when purchasing/selecting a dinghy boat. We recently browsed West Marine for comparisons, which was like dinghy boat 101 for me – haha. You can choose from hard, inflatable, flooring, sizes, and fabrics…sheesh!
The dinghy boat is basically our car while we're cruising, so just like "car shopping" it's important to choose wisely. Main use will be from sea to land, laundry, groceries, fuel and water back and forth. But we'll also use it for the fun and social side of cruising. Since the boat has been at the marina, we haven't had much use for taking either one out regularly. But it's finally time to dust off the dinghies (literally), choose which style we like best and test out the new motor too! So what's so special about this new motor, eh?
Torqeedo Travel 1003 Electric Outboard (priceyyyy) is environmental friendly so there's no risk of leakage or fuel smells, it's sooo quiet, lightweight, solar chargeable AND COMPLETELY WATERPROOF! We tested out the speed (full throttle 5 knots) and range (35 minutes), nice feature is the four-function display that easily shows the battery percentage and power remaining. It was fun zipping around the canals near the marina and we were both impressed with it's performance. Pretty happy about this purchase 🙂
With the electric motor put together and tested, both dinghies really needed a good wash and we noticed a minor slow leak somewhere on the port side of the new one. So we soaped them up for a soap test, waited to see growing bubbles then used the repair kit we ordered online to patch it up – good as new and ready to cruise! We chose to keep the newer boat we got with the electric motor. A West Marine PRU-3 (Performance Roll-Up) Inflatable. Felt great on weight capacity and quickly rolls up for compact storage! We liked the slatted wood and fabric floor, it provided a nice stable walking and sitting area, it was also easy to setup and takedown.
Weight: 53 lbs.
Fabric: PVC-coated polyester.
Floor: Wood slatted roll-up
Cheers from the Marina!