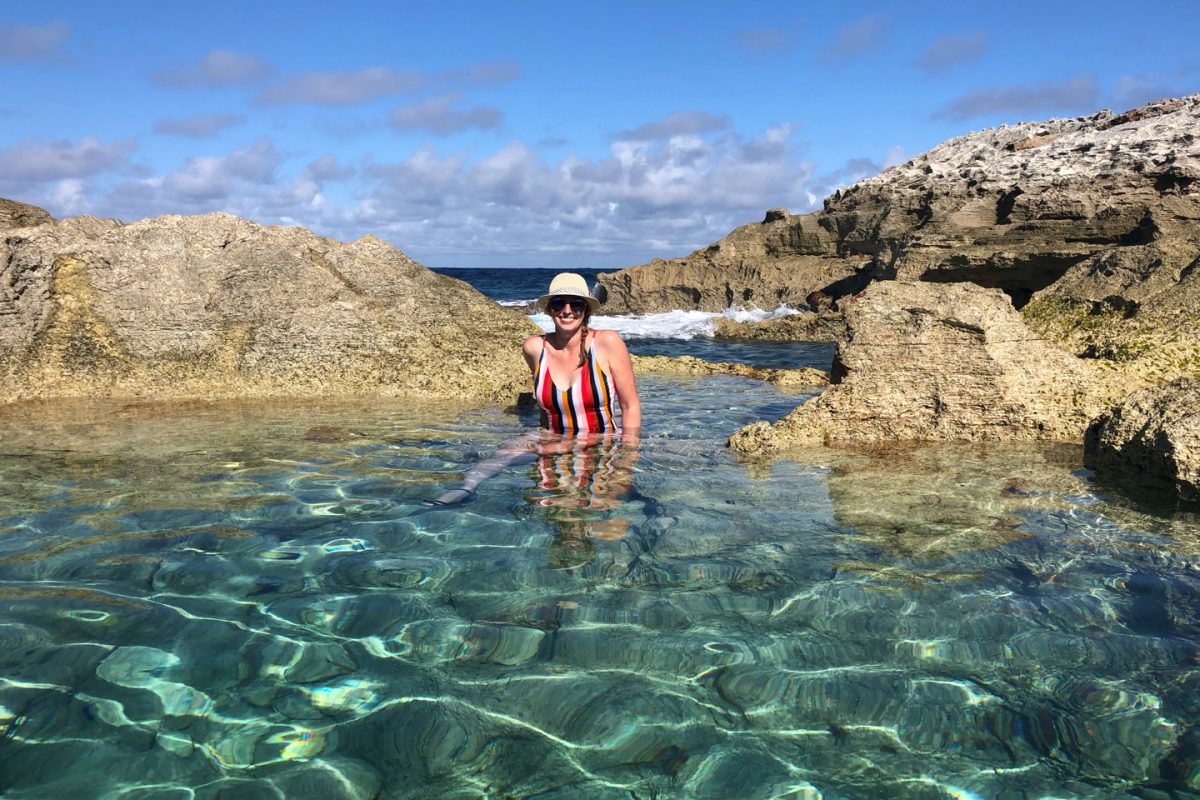 16 Jan 2019
Eleuthera means "freedom"
Eleuthera is a gem! It's remote but easily reached, gorgeous, and it's not very touristy. Eleuthera has this unique combo of pristine beach + outdoor adventure. It's a nature lovers dream! It kept us intrigued and excited to keep moving south to discover what these islands had to offer.
Spanish Wells 
We had a fantastic anchorage at Royal Island, we were expecting a ton of boats considering the amazing weather we were having crossing over from Little Harbour (Abacos) but when we got there it was like a private island retreat (with a few other boats). We immediately put our suits on, grabbed our snorkeling gear and headed out to explore some reefs. Brent even brought his hawaiian sling for spear fishing AND caught us another spanish mackerel! Which we feasted on some delicious fish tacos that night 🙂
The town of Spanish Wells is lovely. As you enter the harbour it gives off a bit of an industrial feel. Lots of commercial boats and boat services and repairs. We walked past a man who was knitting a large amount of fishing net – pretty cool. But the town is very colorful, and each person we passed greeted us with a friendly smile. We enjoyed a great lunch at Budda's snack shack with $4 conch fritters (not $17!) and got to frolic on a pretty amazing sand bar!
Leaving Royal Island is Current Cut. A very fast and strong current in a narrow 100 yard wide cut. As with all cuts it can be dangerous and you need to check the tides and exit through at the right time and conditions. We were in a line of 4 other boats making there way out of the cut. I later read that people come here to "drift dive" and that it's one of the top diving sites in the world! Drift diving is essentially a roller coaster ride for divers. They drift/tumble through the cut passing sharks, rays, and large schools of fish.
En route to Hatchet Bay we made a quick detour for two attractions:
Glass Window Bridge referred to as the "narrowest place on Earth". On one side you have the shallow turquoise waters of the Caribbean and the other of the deep Atlantic. The only thing that separates them is a narrow bridge. The bridge is manmade, that replaced a natural arch that was destroyed during a hurricane. "Rages", which are enormous waves from the turbulent Atlantic side have been known to happen unexpectedly and wash over the bridge. There are some unfortunate stories of those who didn't survive the rages. However, fascinating to see from up top!
Queens Bath is located 0.6 miles south of the Glass window Bridge. There's several signs along the way indicating your getting close. keep going! Its perfect for soaking at low to medium tide, but a rocky challenge getting here, so bring your climbing shoes. These natural pools/hot tubs are super scenic and really amazing! We were right at ocean level with the deep blue Atlantic. The most amazing shades of blue and the crashing waves are incredibly gorgeous.
Hatchet Bay/Alice Town
The channel entrance here is a tall but narrow manmade cut. Passing through can be a bit nerve wracking since there are these giant rocks on either side of you. The anchorage at Hatchet has got to be the most perfectly sheltered harbour imaginable – offers 360 protection! Space is limited and there are several mooring balls available. "Home of the Islands safest harbour", Alice town has a fantastic dinghy dock with a large gazebo and the roads have fun names like "Smile Lane" and "Lazy Road". There's a post office within distance and Da Spott bar and grill had a TV to watch the Patriots game.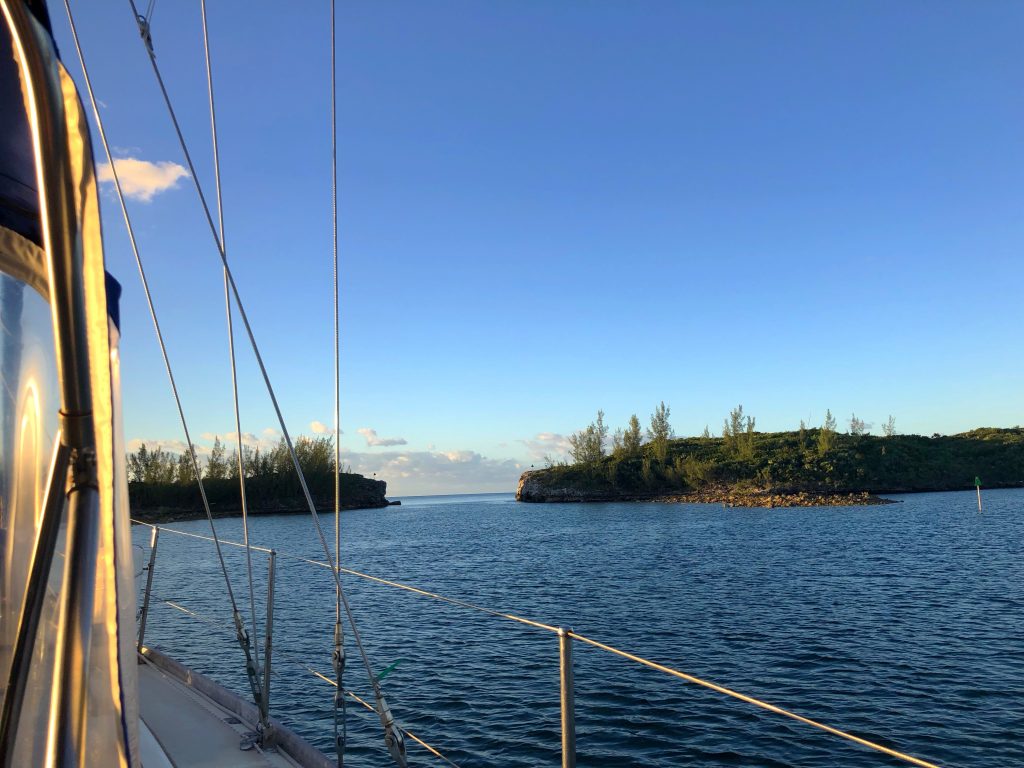 We walked 1.5 miles through town and over to Hamilton land beach, its absolutely beautiful, yet uninhabited. No one in sight during our walk except for a friendly pup that ended up following along with us all the way to the beach. We broke a good sweat there and back so we were excited to stop at Twin brothers for a frozen Miami vice – half daiquiri, half pina colada with a shot of rum. Yum!
If your looking for a car rental, there are better options near Governors harbour.
Rock Sound 
Our last stop in Eleuthera. Rock Sound offers great all-around wind protection, grocery store, available fuel, and some nice restaurants. Its not really a tourist destination although it has an international airport so it carries both the needs of tourists and locals. En route to the ocean hole we stumbled upon 3T's laundry, which is awesome and very nice! I wish we needed to do laundry because I definitely would have here – $3 a load.
Ocean hole is rumored to have healing powers. It's impressively filled with lots of tropical fish and turtles, some people jump off the ledges into the water or dive (600ft deep) but we took a nice stroll around it and looked at all the scenery and fish. We didn't feel compelled to swim in it.
Cathedral Caves is fairly large with lot of little chambers that connect throughout. As you climb down the ladder into the caverns there are roots cascading down from the tree tops and pretty rays of light. We spotted some small bats hanging and were told there are spiders here. Really really big ones! But we didn't see any. A lot of people say you don't need a flash light but we brought one and glad we did. This cave is definitely worth stopping by!
Before making our 58NM jump to Exuma we enjoyed a relaxing date night at Frigates bar + grill. Awesome sunset, pretty patio with lights, and the food was excellent! We also met some new sail friends, SV Get Routty, a family of 4 from Colorado who's been killing it catching tons of lobsters and fish. So jealous.
Eleuthera has been absolutely amazing! In awe of all the beauty this island has to offer from top to bottom.
Cheers from the Bahamas!