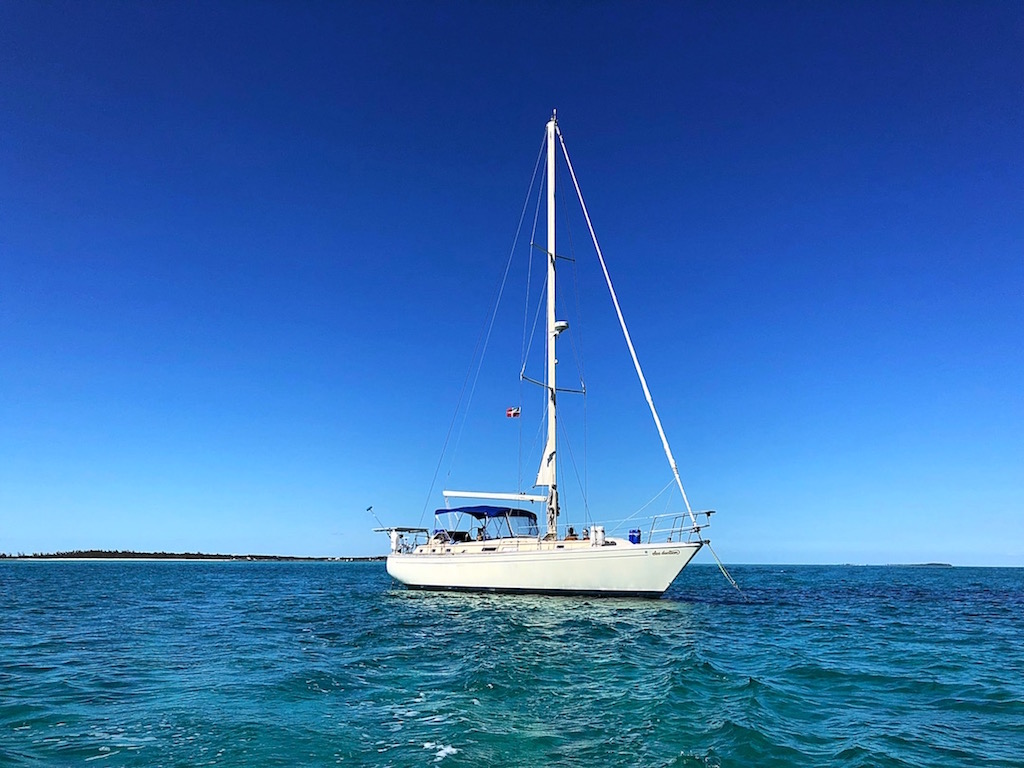 3 Apr 2018
Great Bahama Bank + Birds Cay
Wow are we seeing the Bahamas in an entirely different light lately!
After an adventurous Gulf crossing to Bimini, this particular passage had us really excited because we got to cross the Great Bahama Bank! The Great Bank is made of limestone deposits and, scientists believe, was exposed to the air during the last ice age when the sea level was substantially lower which is why its a wide and shallow body of crystal clear water. Like looking at turquoise glass, so beautiful! It was a long stretch from Bimini to South Berry with calm winds so we motored the entire way and spent the time kicking back, snacking, and enjoying a peaceful ride. We also did some fishing off the back of the boat as we cruised AND we caught a barracuda! Haha. Then quickly tossed it back in, their creepy! At around 6pm we stopped and celebrated our first overnight anchorage. With no one in sight we popped a bottle of champagne, grilled out with the sun setting in the background. It looked like it was literally melting into the water. We slept great, not a roll to be had!
85 NM, total 16.5 hours, we arrived to Birds Cay the next day in the South Berry Islands. Talk about private island paradise! Wow! And for only $11.9M it can all be yours, haha. We however got it free for one night. We were basically anchored in a giant swimming pool, the clarity was unreal. From our boat we could spot starfish and other creatures on the bottom, I've honestly never seen anything so gorgeous. We immediately got the dinghy into the water to explore, (plus we also needed to check out the motor after submerging it into the shark infested waters in Bimini) packed up a couple beers with us and headed ashore to see what you really get for that $11.9 MILLION…it didn't disappoint. >>VIDEO HERE<<
The following night we moved anchorages over to Frazer's Hog Cay and picked up a free mooring ball near Berry Islands Club/Marina (which is sadly closed). Started to get a little choppy at Birds Cay, and this area was looking more protected from the wind, which made it more comfortable. Still plenty of breeze, it was so nice being able to have all the hatches open. We dinghied around to a nearby sand bar, what a day! Sunshine and no one in sight! How this beautiful area was even empty we can't figure out – jackpot for us! We collected shells, saw more starfish and a stingray who kept frequenting the area. Since the water was so clear we also got some underwater hull cleaning in before leaving for Nassau.
Cheers from the Bahamas!