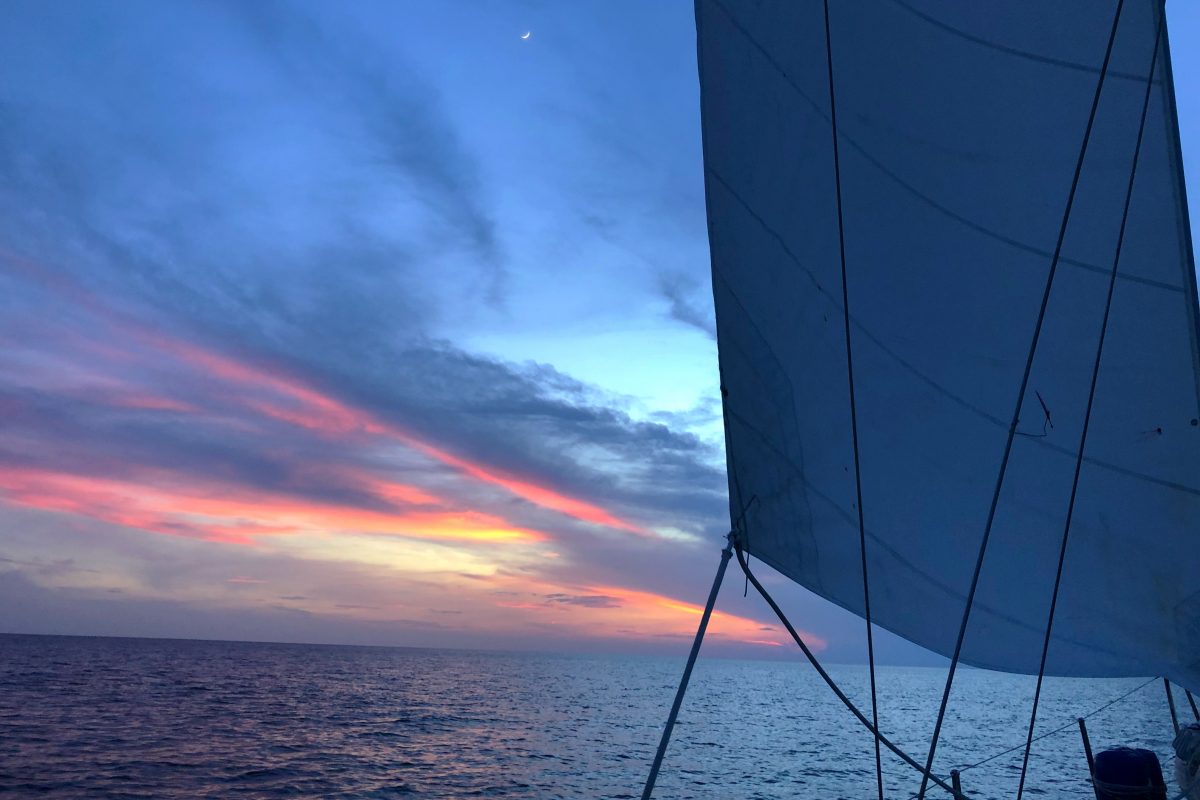 7 Jul 2018
Gulf Stream Crossing – Take two!
After an unforgettable 3 months sailing through the Bahamas we crossed the Gulf Stream back to Florida! Our first sailing season has been a crazy, fun, sometimes difficult, but mostly awesome adventure. It's hard to believe how quickly the time passed. Wow. We've grown and learned so much! The second leg of our passage is now heading up the ICW to our final destination of Jacksonville, FL. Where were hauling out for hurricane season (and some much needed bottom cleaning). Excited for our land adventures this summer, spending the next few months between the East/West coast!
So, how did we spend our last day in the Bahamas? … with rum punch and some poolside relaxation, of course! 🙂
We ventured by dinghy to Old Bahama Bay Marina located in West End, Grand Bahamas. There's no designated dinghy dock here so we asked the staff if we could tie up and they kindly let us. Adjacent to the marina is the resort and it is absolutely amazing, perfect place to spend our last day. It's picturesk and the property is pretty with all different colored buildings, beautiful beach, friendly staff, grounds and entire area clean and we'll maintained. Plus, the pool was incredible! We just kinda wandered right in, grabbed two chairs under an umbrella, and immediately jumped in! We sipped rum punch and ate some of the best chicken tenders I think I've ever had.
That night we left West End around 7pm to start our 56 mile trek towards Stuart, Fl. Weather conditions were pretty perfect, clear, calm, with a decent amount of wind so we did mostly motor sailing. Although in the wee hours it was too calm, which left us luffing here and there so we pulled the headsail back in. Not to mention the sunset was this gorgeous pink glow, it was the perfect farewell as we set sail into the night.
Overall it was a nice and easy overnight passage. Brent and I took two hour shifts, unlike our first crossing to Bimini, we got some sleep this time and didn't feel seasick at all. Our total time was about 14 hours before we anchored near the Jensen Beach Causeway Park where Brent's mom welcomed us home, waving and taking pictures from the bridge. As bittersweet as it was saying goodbye to those beautiful turquoise waters, it sure feels good to be back in the U.S.A.
Cheers from Florida!