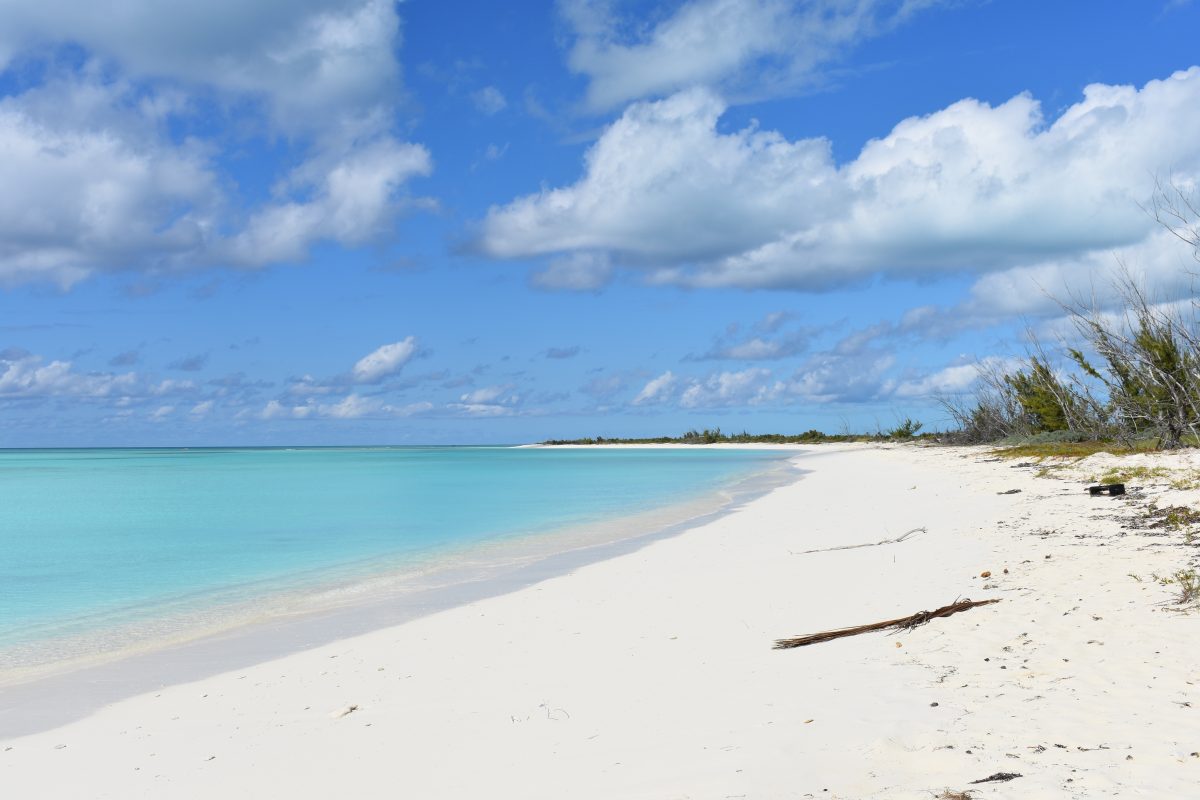 28 Jan 2019
Lovely Long Island: Officially in the tropics
We made it to Long Island 🙂 The furthest south we've been in our sailboat – so far! We had high expectations for Long Island based off all that we read and of course what other cruisers had told us, "You're gonna love it". Happy to say, it did not disappoint and it's no surprise that it's known as the most scenic island in the Bahamas, because it really is! The Tropic of Cancer runs directly through the island, giving it two very different coastlines; cliffs, caves, and calm clear blue waters on pristine beaches. As side from it's history of Columbus in 1492, Long Island came to be because a sailor felt it took too long to sail past the island. Hence the name: Long Island…he wasn't wrong.
Thompson Bay anchorage is large and has excellent holding, we stayed in Salt Pond Harbour for 10 days. Of course a few of those were to wait out another storm that blew through with 30-40 knot winds. So unfortunately we missed the chance to explore other nearby islands such as Conception and Rum Cay. According to our anchor alarm we didn't budge at all. Theres an easy access dinghy dock, trash, water, diesel, car rental and Scotia Bank (near Deadmans Cay) open Tuesday + Friday only from 9:30-3pm.
We had a blast with our rental car, driving up and down the (80 mile long) island and stopping along the way meeting good people, seeing gorgeous beaches, and enjoying the perfect water! Highly recommend Seaside Car Rental. Cash only. 
Seaside Car Rental (Salt Pond) $75 a day
Mr. Fox #242-357-1528 or VHF 16
Columbus Monument
Located at the very tip of the North End. Don't let the rocky road deter you. It's worth it! A short hike up the path and the views at the top are absolutely breathtaking. 360 view of the North island and Atlantic. Simply gorgeous! The monument itself, marks Columbus third landing in 1492 and really commemorates the native people who were harmed by Columbus. It was nice to see that it made history real.
The resort is named after Columbus's sailing ship. It's a super cozy place with cottages situated along a perfect pristine beach. We stopped inside the Beach House for a drink and to enjoy the views after a long trek to see the Columbus monument.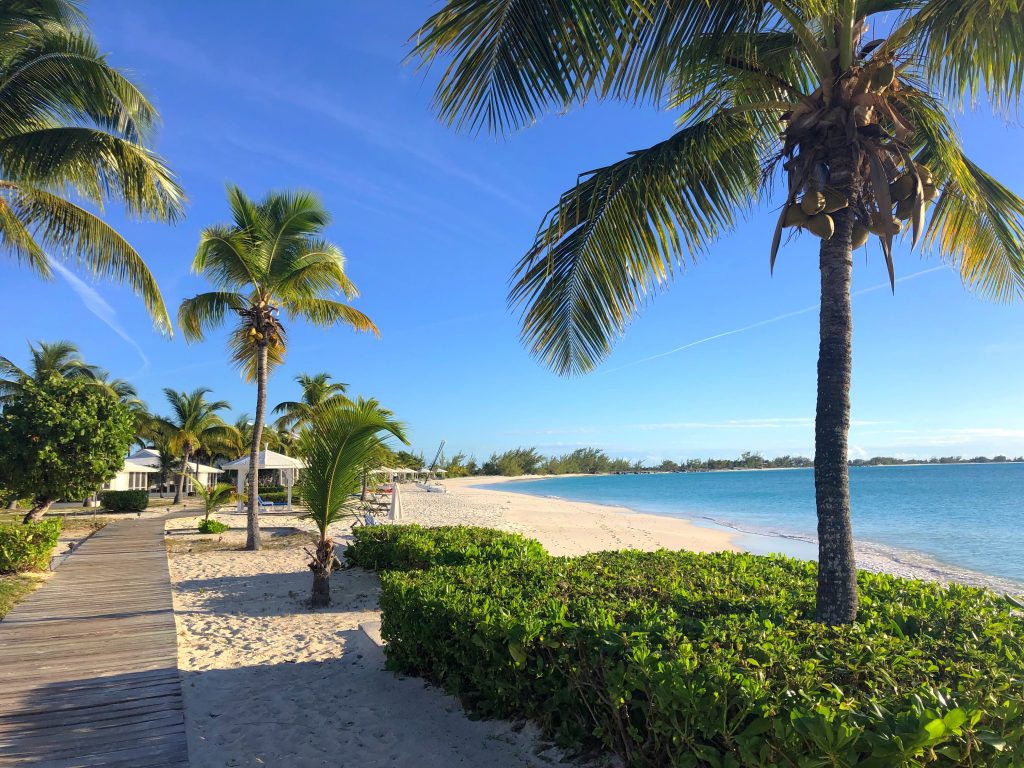 Located off the beaten path, we made the stop for two reasons; the tide pool + Moonshine Beach Bar. Erna's tide pool is breathtaking. You walk along a wooden boardwalk to a sun deck above the tide pool, and take the concrete steps down. The sea water flows in and drains from a section of carved out rock. very cool. Moonshine Beach Bar, was paradise, unfortunately we didn't find any staff working the area otherwise we would have grabbed a drink and enjoyed the view a bit longer. Bummer.
Da Spott
Live band Saturday and awesome sunset views! Enjoyed a round of beers and some french fries while chatting with the owners daughter. She filled us in on life on the island and her aspirations to travel, she's been on Long Island her whole entire life. Her plans were to save enough money during the busy season to go on a trip. I often wonder where the Bahamians vacation or travel within the islands…?
Sou' Side Bar + Grill 
Colorful open gazebo, overlooking the Salt Pond Harbour, relaxed place with lots of cruisers. We ordered the cracked conch and spicy wings. Vanessa makes some hot hot hot sauce, according to Brent and a women next to us who had tears in her eyes…They also have a TV and since it's football season, all the playoff games have been on.
Hillside Food Supply
We heard that the grocery in Long Island was awesome and not to skip it. It was very well stocked with lots of fresh produce and a second level with tons of fridges and freezers. Reasonable prices and perfect for provisioning. The mailboat makes two weekly trips from Nassau to Long Island.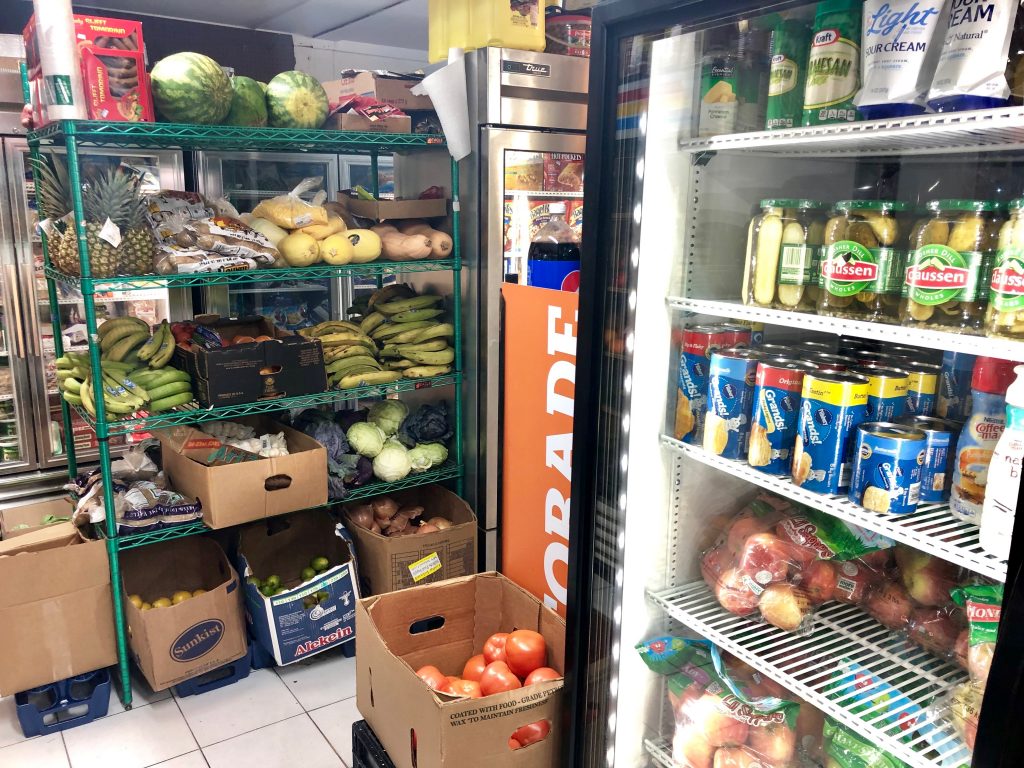 The most picturesque little beach restaurant owned and operated by a couple from Sausalito, CA. The water front bar features lounge chairs, swings, hammocks, giant janga, and a great dock to tie up to. Conch fritters were amazing! Open Wed – Sat 12p – 9p Sun 2p – 9p. You can also special order pizzas by request since they make their own crust. Cash only or PayPal available.
Max is a must! Cozy place by the road with a bahamian feel/tiki bar. Really relaxed and the food was great! Cracked conch gets an A++. Closed on Sundays.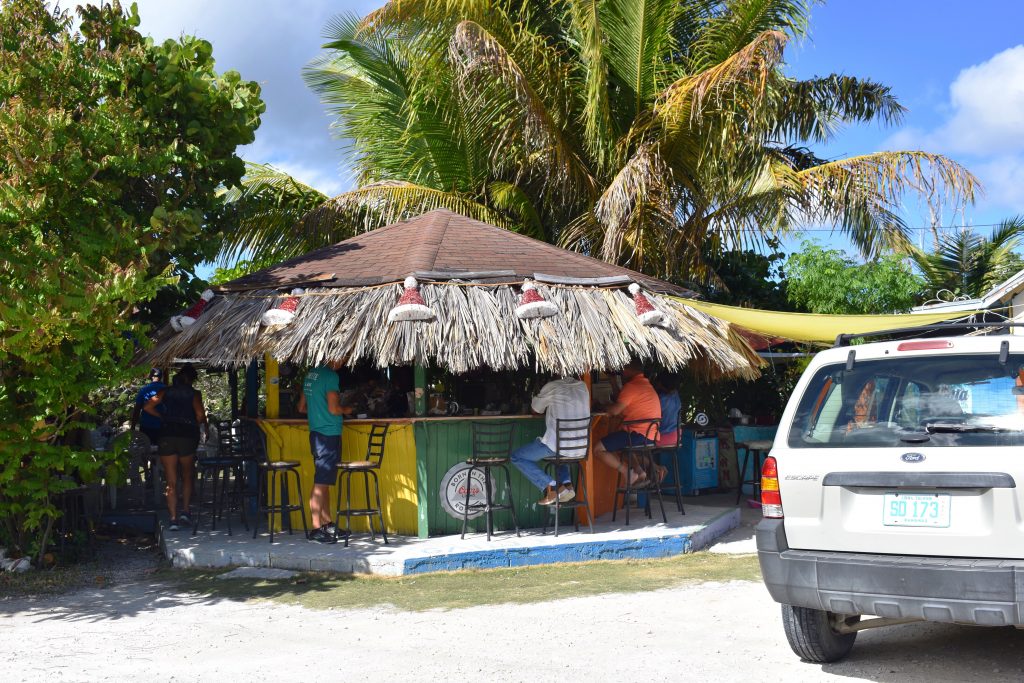 Hamilton Caves
We were looking forward to these but ended up skipping it since it's actually located on private property and only accessible by the owner who does groups tours of the caves for $15 per person.
Dean's Blue hole 
located West of Clarence Town and the world's second deepest blue hole at 660 feet (200 meters). Free-diving contest are held here each year, without tanks, divers come from all over the world to set a new record.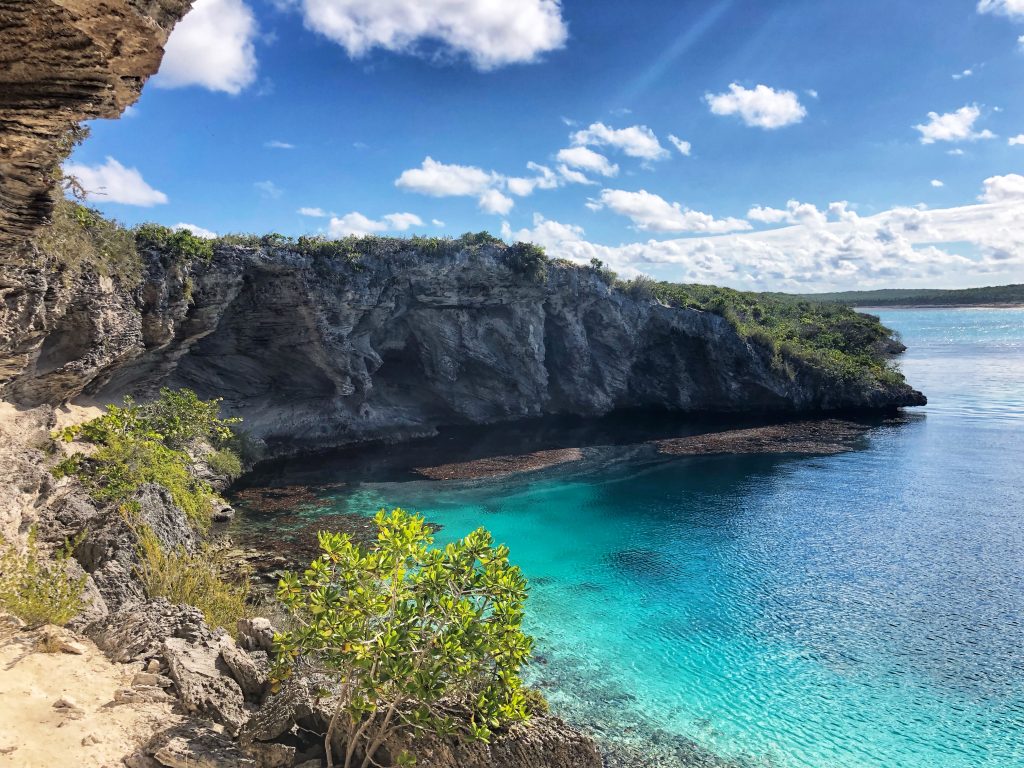 Clarence Town 
Is the capital of Long Island. First order of business was stopping at Erica's Bakery and shop for some freshly baked Bahamian bread and chocolate chip cookies! Then checking out the Flying Fish Marina which is a haven for sport fishing and diving excursions. Also the perfect place for a stopover if traveling to/from the Caribbean. Has a great upstairs bar with food and drinks overlooking the harbour. St. Peters and St. Paul Church is located at the top of the highest hill in town, is a well known land mark that use to help guide mariners into the harbour.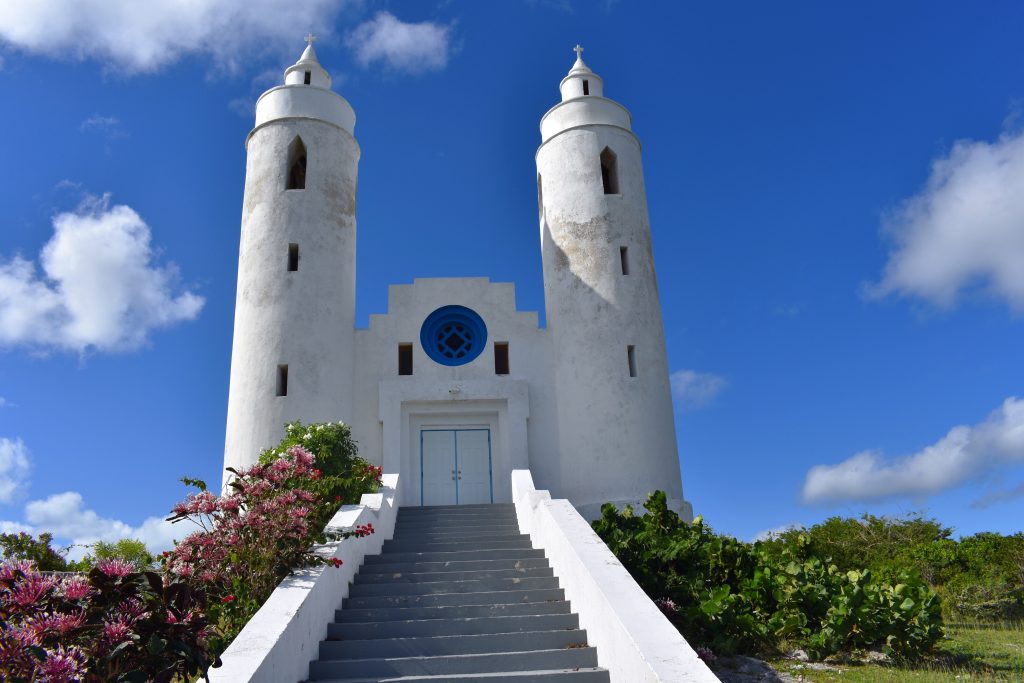 Gordon's Beach
Absolutely amazing! The type of place where you just want to press "pause". With fine white sand and water so blue this perfect beach marks the end of Long Island (South End). If you are lucky you will find pink flamingos, I so badly wanted to see them here. Maybe next time! The locals also advised us to be aware of sharks in this area.
Were nearing the end of this wind storm which means some ideal weather windows are opening up for us to continue further south to TURKS AND CAICOS! We are so excited for this next jump in our sailing adventure! Plus, we have two boat guest arriving soon to share the fun with 🙂
Cheers from the Bahamas!