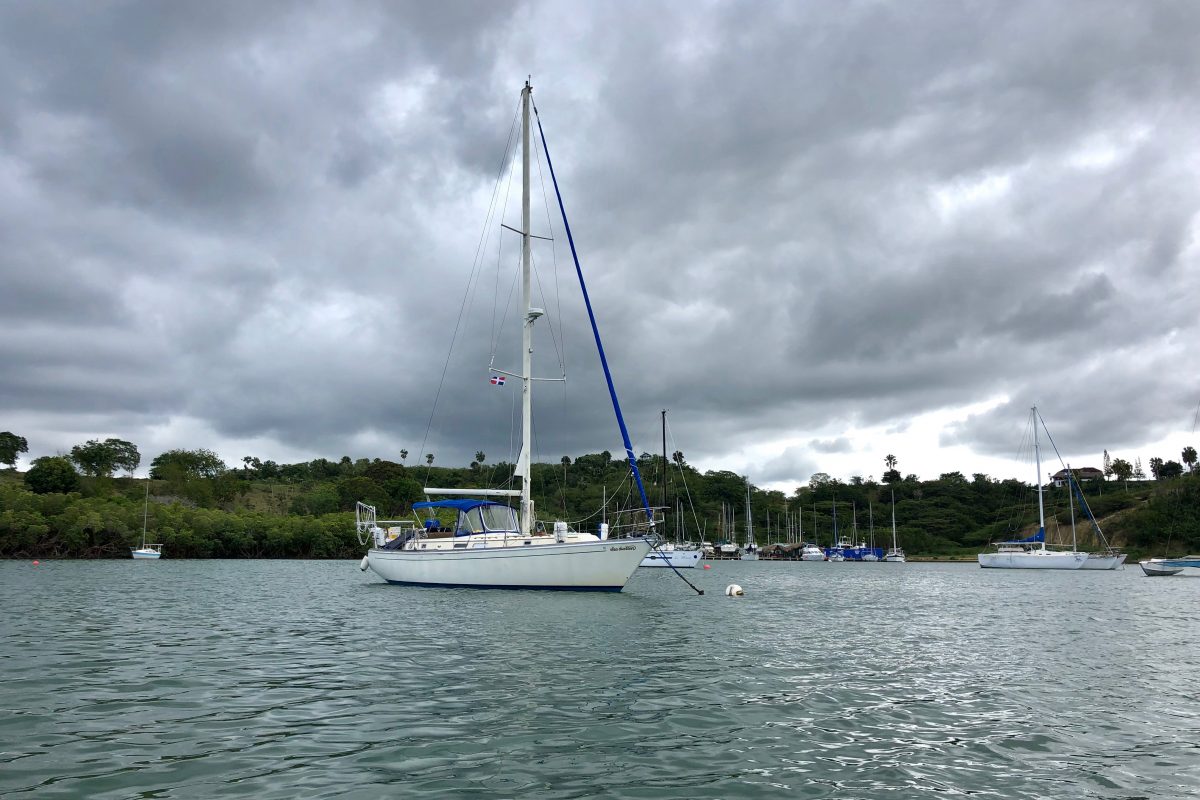 11 Mar 2019
Luperón: The Perfect Hurricane Hole
Hola! Get comfy there's LOTS to cover here!
It's been 3 weeks since we crossed over to the Dominican Republic. Luperón to be exact! A cruising destination I once said, "Ooh, we are not going there!" Last season so-and-so said "customs people with large guns will board our boat and demand gifts and money." They also said "It's full of corruption and very unsafe."
Well here we are…and boy was I WRONG that's not even close to the experience we had here. If there is anything we've learned this season it's to NOT listen to all the chatter you hear from people just sitting around in Georgetown, Exuma. We absolutely LOVED Luperón! I'm not saying its perfect and you should always exercise caution when visiting other countries. It's very different from the turquoise waters of the Bahamas, in fact, Luperón's water is pretty disgusting but the mountainous views and country side are really stunning. The town is lively and the food is oh so delicious, we met several ex-pats who sold their boats years ago, decided to set up beautiful homes and retire in the rolling hills of Luperón.
Its quite impressive for a small town, theres a hardware store, discos, a hospital, police, dentists, and TWO ice cream shops. Don't mistake its lack of sophistication for lack of civilization. But if you're craving the big city you can brave the crazy roads to Puerto Plata or Santiago, 45 min – 1 hour car ride OR there's a pretty sweet bus that runs two times a day direct from Luperón to a few locations. Spanish is the native language however you'll find many friendly English speaking locals who will help translate. Everyone we saw smiled at us with a happy "Hola!" or "Buen dia!" Brent has been actively using some language apps everyday, trying to learn more spanish and he's done such an incredible job being our translator! 😁
Customs + Despacho
In: It's situated in a group of temporary portacabins at the end of the pier next to the dinghy dock. We were not boarded and did not pay an additional "fees". However they did ask for a photo of the boat via WhatsApp. There was one man who spoke very good english and was able to help translate. Be prepared to get shuffled around to 3 different departments and exchange your pesos BEFORE. They will not provide you any change.
Lydia in Agriculture request that you bring them any trash you have onboard the next day, they dispose of it to avoid cross contamination. She'll also do your laundry if you want to drop it off.
Out: In the DR you must travel with a despacho, which is a form the commandante issues your boat stating your departure port and destination port. It was $20. Bring all necessary boat documents, passports and don't be afraid to be friendly to the Navy personnel at the top of the hill otherwise the process can take longer. Luckily Brent was able to crack some jokes and lighten the mood. They gave us a little trouble with our departure time. Stating you can't leave after 5:30pm. Ok. BUTTTT…that's just not how it works for weather and we were planning to overnight. So, while we wanted to respect the commandante's word, you gotta do what ya gotta do! And we did. From what we were told, they are still working on cleaning up this process.
Moorings + Marina
Papo runs a great service in the harbor. Mooring balls are $2 a day, and he'll bring you water, diesel, and help you with whatever you need. We were full with diesel but we did utilize his services for water ($0.20 a gal delivered), bottom cleaning ($35) before our next passage, and rental car ($30)
Suggesting that you pick up a mooring towards the back of the anchorage (closer to the dinghy dock). It's more protected and tucked away. Scary incident of boats who were adrift due to the lines snapping on the balls at the front of the harbor. It's safe to say these are poorly maintained and covered in green slime with all sorts of "stuff" growing on them. Yuck. But its 360 protection and not a roll to be had so we slept like babies!
FYI: Since the water is stagnant it collects all the gunk and bacteria. After Brent contracted a stomach bug we were almost certain it was because of the water so we constantly washed our hands after dinghy rides and touching any of our lines in the water.
If you'd rather have a slip, there's Puerto Blanca Marina – $1 a foot. On-site is laundry which we did for free, it's a very unique washer and there are no dyers. Hot showers are available for $0.50 cents, but again we tried to pay and it wasn't added to our bill. Las Velas restaurant was great for the Café con leches and free WiFi! Besides Wendy's Bar its also a gathering spot for the local ex-pats and cruisers.
There's also Marina Tropical, but it's more of a work yard and they provide boat services (haul out, bottom work, repairs).
Food + Grocery
You can't beat the prices! The beers are huge (liter bottles 150 pesos), the food is really excellent and theres lots of variety, but the fresh fruit and veggies is where it's at! In one trip we bought pineapples, avacados, peppers, onions, eggplant, limes, tomatoes for $3!!! Incredible! Considering that's a small fortune spent at Publix back in the states. All our fresh produce made for a great ceviche Cap'n Don made with our left over tuna!
The Chicken shack and Empanada stand were our favorites! We went to both every other day. We rarely cooked on the boat since it was cheaper to eat out than buy groceries. There are several market options to provision from, we went to all of them since they varied in assortment. But all very clean and nice!
We said Goodbye to our second boat guest on 2/21 and was in Luperón a lot longer than expected due to weather, but it's definitely not a bad place to be "stuck". The simplicity of life in Luperón has been eye opening, its easy to see why some cruisers have chosen to live here permanently; colorful landscape, awesome food, and everyone wears a big smile! People are happy to lend you their motorcycles, give you a ride, feed you, translate, and point you in the right direction.
Cap'n Don made friends with Simone, a guy from the Customs and Immigration office who was also a fishermen. The first day we met him he was sewing a net for Lobsters and invited Don out on his little boat…at 5am to collect the traps. As payment for his help, he gifted us TWO LOBSTERS! 🙂 We made a delicious seafood stew!
With nothing but time on our hands, we kept busy by exploring every inch of town with new sail friends SV Freyja and SV Taking the chance. Including home-made pizza night on Abel + Hélène's boat, Karaoke at Wendys Bar for Drew's Birthday, and passage planning for Puerto Rico at Las Velas. So happy we were able to cross paths with some young cruisers! It made our time here even more fun!
We ventured north of town to Luperón Beach, a pristine beach along the coast with white sand and clear blue water, nothing like our anchorage water. This beautiful beach was once an all-inclusive resort – Playa Grande. Unfortunately the resort is condemned due to hurricane damage in 2011 and the land is now grazed by cows and horses. However, the beach remains really beautiful and open to all with a beach front bar.
Up next: Waterfalls, Cable Cars, Driving in the Dominican Republic and more!
Cheers from the Atlantic/Carribean