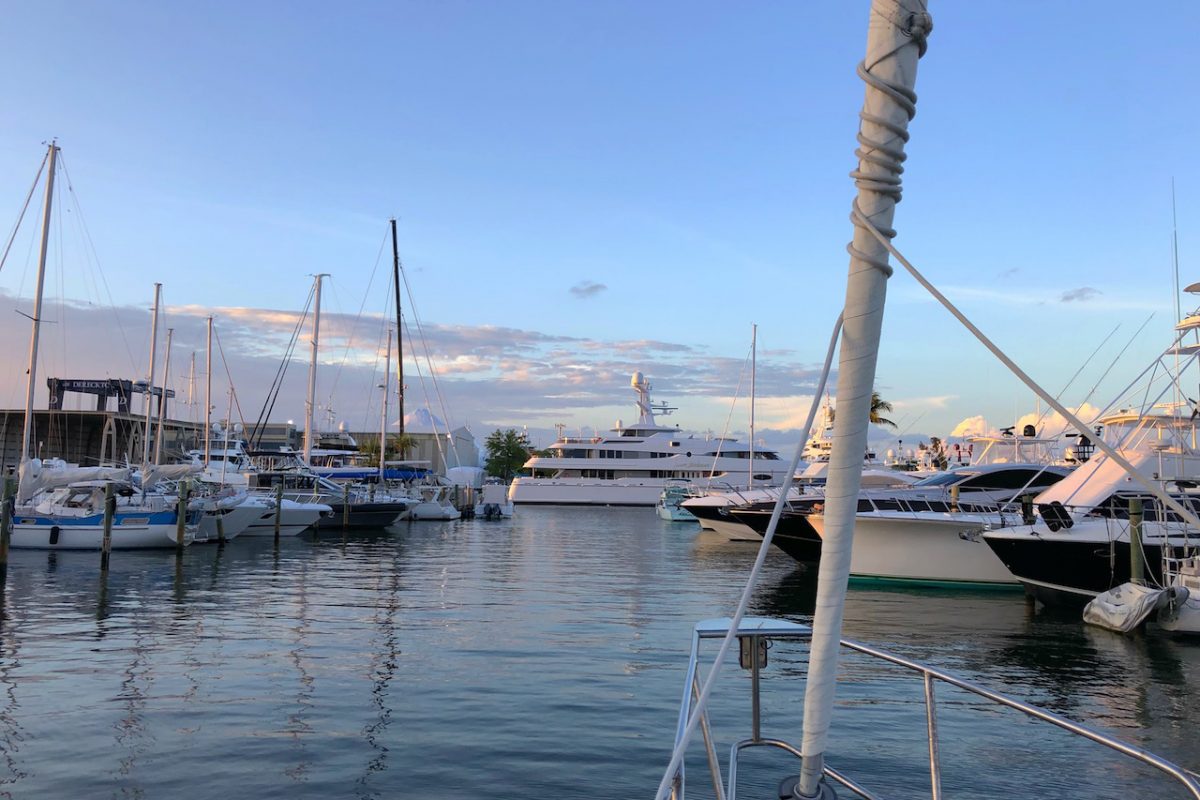 22 Mar 2018
Maiden Voyage of S/V Sea Duction
We're officially cruisers!
I cannot believe it's been almost two weeks since making our first crossing! We sailed her from Royal Palm Marina in Dania Beach, FL  and over to Bimini, Bahamas! Our first stop in our Bahamas adventure. The trip over is a fairly easy sail, however weather windows are everything in the make or break of this. Our original departure was for early Monday morning, March 12th, but as the weather started to change more drastically (thanks nor'easter!) and since the boat was stocked and ready to cruise we jumped at the opportunity to depart earlier.
Our good friend Cap Don joined us for our overnight sail, always a good idea to have an extra set of hands. We packed a large cooler to keep up in the cockpit and minimize any trips down into the cabins. I made us sandwiches, snacks, drinks and had all the anti-seasickness meds ready and available (those ginger slices really came in handy at about midnight for me). We departed Dania Beach 8pm on Sunday March 11th. The night started off nice and calm, we motored for a little while out through the cut-off canal, Port Everglades, and into the Atlantic. The wind was really in our favor so it wasn't long before we got the sails out – it was a beautiful night at the office as Cap Don would say. Plus side to night sailing is there is no sun, so no sunscreen/sunburns. The sky is also beautifully lit with stars once you can no longer see land and thousands of jelly fish light up the waves. Downside is you don't actually sleep. Although we took shifts napping your body is just wired and alert with all thats happening in and around the boat.
The waves really picked up around midnight, started to feel a little nauseous so I sipped on some La Croix and sucked on a ginger slice. If you didn't know, ginger has long been used as an alternative medication to prevent motion sickness and settles the stomach. Brent suggested I lay down in the aft cabin since there is less movement in this part of our boat so I did, which worked! At about 4am I felt better but we were heeling pretty hard! Our drinking glasses in the cabinets were clinking loudly, some of the doors were opening and slamming shut as we rocked (I feared for Brents bourbon collection breaking, that'd be really fun to clean up), I could hear a little bit of rain and I couldn't even get up to walk through the boat so I stayed put. Haha. This is boat life people! Finally, I could start to see day light, everything calmed and the motor was back on. So I made a quick dash up to the cockpit at around 7:30am. I felt like a zombie coming up towards the light, but what I saw next was beautiful blue water as we pulled up to the marina dock. The dock master approached us with a "Mornin' Cap". So proud of Brent at that moment! A year+ worth of hard work, planning, and preparing validated. We made it to Bimini! >>VIDEO HERE<<
Clearing customs: Once we docked, the captain of the boat is allowed to go ashore to meet with Customs and Immigration to clear the vessel (crew must stay aboard) this allowed us to fly the Bahamian courtesy flag. The fee is $150 for those under 35 feet or $300 for boats over 35 feet (were 44-feet). This covers the cost of 3 crew members and the initial-entry cruising permit, plus a return visit within 90 days. Also includes a 3 month fishing permit. Then, it was time to take a long nap and at about noon we ventured out in search of hot food and beer! What a night and an experience we'll never forget.
Departure: Sunday, March 11, 2018 at 8pm.
S/V Sea Duction 1981 Gulfstar 44
Distance: 48 NM
Total time: 12 hours
Time under motor: 3 hours
Time under sail: 9 hours (average: 4.5 knts)
Winds out of the west
Seas 2-4 feet out of the south
Cheers from the Bahamas!