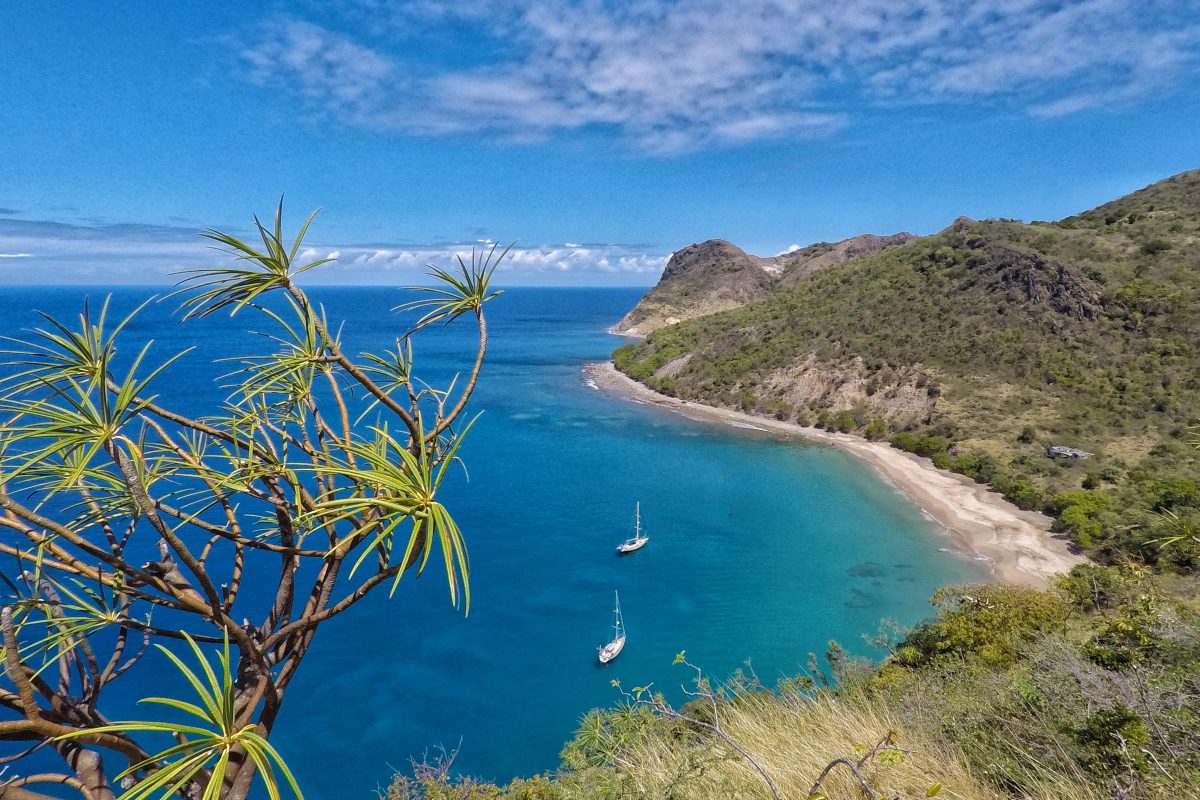 10 Mar 2020
Montserrat: Nature in her rawest, most powerful form
After 3 weeks in Dominica, a weather window finally opened up. We'd spent a week trying to decide where to go. Do we continue South down the Caribbean chain? Do we go North?
So, we set our sights on Montserrat for some blissful downwind sailing!
Typically by early spring it's important to know what the remainder of the season will look like, and start to solidify hurricane plans. We felt a bit torn about Grenada or going back to BVI and possibly even Puerto Rico to put the boat on the hard. We had a short window to leave Dominica, and find a protected anchorage as a north swell was approaching. At the same time, we discovered that there was a lot of reports coming from the US + Europe about Coronavirus. Corona-what?!
It was virus we knew little about, were usually "out of the loop" with the news. At first we weren't too concerned about it since we are not in the US and are confined to our boat. But rumors quickly surfaced that the islands were considering going into a lockdown. So for us, it was really important that we were in a good place and as American citizens it seemed smart that we would try to shoot for USVI. More on that later…
Rendezvous Bay 
As we dropped the hook we were in total awe of this anchorage. Wow. Tucked beneath towering cliffs of Montserrat's only white sand beach. We really lucked out and took advantage of the short weather window we had to anchor here!
Not only did we hike, snorkel, swim, and clean the hull but we also managed to relax! The views of this bay were spectacular and the landscape was unique.
One of our favorite moments in Montserrat was our beach hike. There's a narrow unmarked path that indicates the beginning of the trail. Its a moderate hike, there is some steep climbing and thorn bushes you'll want to watch out for but its totally worth it for the view overlooking the bay. Truly stunning! I couldn't help but take a hundred pictures of our boat.
**Photo credit to our friend Nick of SV Borealis who perched himself on the edge of a cliff to get shot #4 🙂
Just a short hop over from Rendezvous Bay, is Little Bay where you'll find some bars, restaurants, and customs. This anchorage offers a little more protection from swell but not as secluded and scenic. We enjoyed lunch (and free wifi) at Summer Breeze, specializing in curry and other fusion dishes as well as delightful rotis and paninis. Not to be missed is their Summer Breeze signature cocktail, Killa Bee and Queen Bee rum punches.
Speaking of customs & immigration, it's pretty strict. If you arrive on a weekend be prepared to pay overtime fees to clear in or you get booted off land.
We opted NOT to pay the fees so we were banished back to our boats…to swim in the perfect crystal clear waters until Monday arrived. Now if you get excited over passport stamps like I do, you'll want to make sure you get one from Montserrat. Its a green shamrock!
Seems odd, I know, but St. Patricks Day is huge in Montserrat! It's a two week long celebration highlighting Montserrat's African and Irish heritage. It's the only Caribbean island outside of Ireland to celebrate St. Patrick's Day as a national holiday and it commemorates a thwarted slave uprising in 1768. The celebration takes place in the week leading up to March 17th with a colorful street parades, food, pub crawls, soca and reggae concerts. It's such a bummer that we were here a week before the festivities were set to begin. Unfortunately, the weather wouldn't allow us to stay longer in Montserrat.
L & Yve's Taxi & Tours
To make the most of our time on the island, we hired a guide. Yvette, picked us up at the dinghy dock/customs at 9am sharp! She was such a sweet lady and did a fabulous job chauffeuring us around. As well as chatting with us about her personal stories growing up in Montserrat and the islands history. Highly recommend.
 1-664-496-6577, or you can message them on their Facebook page. $55 US pp.
First up on our tour was The Montserrat Cultural Centre, a top attraction in Little Bay. This multipurpose performing arts center was inspired and funded by ex-Beatles producer, Sir George Martin.
Capped with a red roof that pops against the green hillside, the facility hosts a recording studio and accommodates conferences, weddings, and cultural events. Theres a Wall of Fame exhibit featuring bronze handprints of famous musicians who recorded music on Montserrat during the 80s, including Elton John and Paul McCartney.
The Caribbean classic "
Hot Hot Hot
" was the signature song of Alphonsus Cassell, who recorded as Arrow. He was a popular Soca musician from Montserrat and is the islands super star. In explaining the difference between Calypso and Soca in a 1996 Associated Press interview, he used this song as an example. "'Feeling Hot Hot Hot' makes you forget that there's a volcano and remember there's fun to be had," he said, adding that Soca was made for dancing and didn't carry any political messages.
Montserrat National Trust – Established in 1970, has been at the forefront of preserving and conserving the cultural, historic and archaeological heritage of the Island. We really enjoyed walking around here with Yvette because she incorporated so many of her own personal stories. Items they salvaged from the volcano are also on display here. These melted glass bottles were so fascinating to see up close. Theres a small gift shop onsite as well. So we bought a few goodies.
Runaway Ghaut – A ghaut (pronounced "gut") is a geological feature that's common on the islands of the Lesser Antilles. It's a narrow but deep gully that runs along the steepest slopes of the islands' mountains, funneling rainwater into the larger bodies of water at the lower elevations. Local legend states that those who drink right from the ghaut are destined to return to Montserrat. I believe we will!
Plymouth
The main reason for hiring a guide was so we could tour Plymouth. The island of Montserrat is an overseas territory of the United Kingdom and Plymouth was once the capital and only port of entry until 1997. Montserrat was devastated by the catastrophic volcanic eruption of Soufrière Hills, which destroyed the capital city and forced evacuation of a large part of the island. Many emigrated abroad, mainly to the UK, though in recent years some have started returning. The eruptions rendered the entire southern half of the island uninhabitable. Leaving the once flourishing capital abandoned permanently. It's currently designated an Exclusion Zone with restricted access.
The repercussions of this devastating event are still felt today.
Exclusion Zone
To enter Zone V you MUST have a permit and guide certified by the Government of Montserrat. While inside, we were closely monitored and in continuous radio contact with MVO. As well as followed by an escort.
Soufrière Hills volcano is Montserrat's most notable feature. In 1995 it suddenly became active for the first time since the 19th century. It menaced the island for several weeks before suddenly wiping out its capital city of Plymouth in a matter of hours — literally burying it under 40ft of boiling mud and ash forever changing Montserrat's 12,000 residents.
I can't quite convey the feelings I felt while standing in the very spot that was engulfed by pyroclastic flow in 1997. Ancient remains of an entire town perished. Families, farmers, doctors offices, grocery stores, and a swanky hotel known as Montserrat Springs. The hotel was its jewel, and a hotspot for many celebrities and tourist. Touring this site, and seeing the visual destruction really put into perspective the events of that day. Chilling.
Today, the volcano remains a wild card and ranks as one of the most closely monitored volcanoes in the world. The Montserrat Volcano Observatory is a viewing deck with views of the volcano, and the Visitors' Center is filled with interactive kiosks detailing the eruption's history and impact.
There is much to learn about Volcanoes. My shallow knowledge had me thinking they erupt and spew rocks, boulders and ash and then lava flows. But there is so much more complexity to this beautiful wrath of nature…rock formations vary depending on how the rock is affected by the heat, pyroclastic flows (something I previously had no idea about), and the fallout from the dome is a force of nature that can evolve and move long after an erruption anytime heavy rain falls. Seeing and learning about the complexities is a must!
Cheers from the Caribbean!