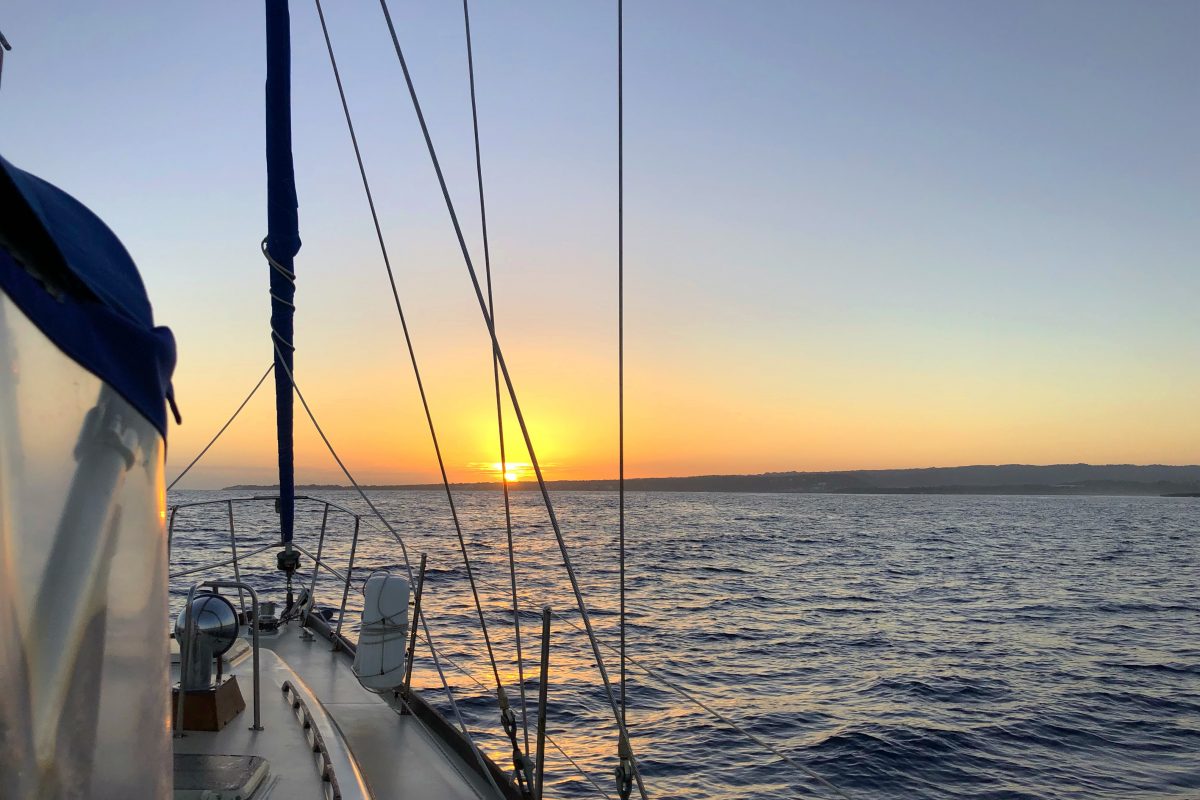 17 Mar 2019
PASSAGES: DR North Coast & Mona Passage
With weather finally favorable and our despacho in hand it was time to leave Luperón! We spent over two weeks here thinking we may never get a good weather window to leave so saying goodbye to this perfect hurricane hole and cheap street food was bittersweet.
Can't say we weren't dreading this portion of our trip down the thorny path. But in order to get from Luperón to Samaná and ultimately Puerto Rico you have to cross some of the most grueling seas. Which is why we (Brent) thoroughly did our homework for the best weather windows and routes!
The Northern Coast: Our Strategy
(Patiently) Wait it out for the lightest winds possible and motor sail across as quickly as we could. With a tight window in our forecast and after lot of strategizing we decided to break up the journey into 3 overnight passages in order to hug the coast and benefit from the night lees. Just like Bruce advised.
Luperón to Sosúa
Sosúa to El Valle
El Valle to Samaná

nightly departure to arrive by daylight
At 2am on 3/5 we departed for Sosúa (30NM) with sail friends SV Just Breathe and SV Taking The Chance. The water was like glass as we motored out of the channel and into the Atlantic – woo hoo! I stood on the bow with a spot light to help Brent navigate the markers. It was a short (6hrs) and uneventful motor sail to our first stop. Our overnight was very chilly we think because of the winds coming off the land. We both had jackets, pants, and sat in the cockpit with blankets. The warm glow of the sun coming up felt so amazing and not long after it was back up to 80 degrees.
Passage stats:
Luperón to Sosúa
3/5
2am – 8am
6 hrs
30 NM
Avg 6.3 knots
Things changed when we arrived to Sosúa. We arrived at 8am and to our surprise there was a ton of other boats also staging for the nightly (1am) departure. We recognized one of the boats anchored, SV Country Dancer from Luperón and hailed them over the radio. They advised us that their anchor was wrapped on a coral head and to avoid dropping anchor near them, to look at Apple maps for better visibility on the sandy patches – it totally worked! And we dropped anchor no problem. With our two other buddy boats coming in behind us we passed word on the anchoring situation and they got spots no problem.
Note: there are some mooring balls available here but you'll likely be kicked off since they are designated for some fishing boats.
SV Country Dancer was in a bit of a pickle with their anchor and a diver was very expensive. So Brent and Abel (SV Taking The Chance) dived in about 28 ft to reposition so they could safely pull it up and move. Word got out so for the next hour, the two of them were going around to all the boats in the harbor diving on everyones anchors. Haha. I, however, went straight to sleep and luckily the wind direction was just right so it was nice and calm. Otherwise, this can be a really terrible anchorage. As the day went on, the beach became quite lively and also crowded. Several tour boats came through packed with people and blasting music.
Within the 8 hours we were anchored out the weather conditions had shifted, in a good way! Now 6 boats: SV Limitless, SV Just Breathe, SV Country Dancer, SV Taking The Chance, SV Calypso, SV Sea duction (us) were re-routing and going directly to Samaná – 107 NM. So we departed at 8pm and this was the first time that I thought to take a dramamine pill this season. Fortunately we had a steady breeze and little wave action so it was actually quite pleasant, we got to hug the coast and at times it was completely flat! Even rounding the two capes where we expected it to be rougher was pretty mild, not at all confused or like a washing machine, and the higher winds only lasted for a few hours. At one point we were making 7.7 knots! Our other buddy boats, called us out over the radio saying, "You guys look like you are flying!" 🙂 And we were, it wasn't long before the other boats were in the distance.
This weather window was so good that 3 out of the 6 boats decided to bypass Samaná and continue on to Puerto Rico that night! Not us, I wasn't passing up that amazing infinity pool – lol.
Passage stats:
Sosúa to Samaná
3/5 – 3/6
8pm – 12pm
107 NM
16.5 hrs
Avg 6.4 knots
Two back to back overnights is pretty killer. However, thrilled that weather conditions were ideal and we were able to play off the night lees. Upside to the overnights is we were able to have daylight rounding the capes to Samaná Bay, which is incredible to see! Lush natural cliffs and beautiful views of the landscape and beaches as you begin to enter the Samaná peninsula to Marina Puerto Bahia!
The Mona Passage
Puerto Rico or bust! While we enjoyed 5 days of air conditioning, resort life, and frolicking in the infinity pool. There was a little bit of anxiety looming with our upcoming Mona Passage. Our last BIG jump and we can FINALLY go back to easy cruising life!!! Its the most difficult passage in the Caribbean due to the currents and shoals. There are so many horror stories, such as unpredicted squalls building off the coast and massive lightening storms. Fingers crossed this was not us.
Tuesday 3/12: Upon leaving Puerto Bahia, we ordered a passage pizza to-go from the marina restaurant (do it! 2am life saver) and made a quick stop at the fuel dock, and then made our way out into the Samaná peninsula at 2pm with a fleet of 8-10 other boats. Once we reached the bay it was a 2 ft wind chop on top of a 3 ft swell coming from the NE (10-15 knots). We had an eventful afternoon that consisted of some phenomenal whale watching. For about 30 minutes there were a dozen+ humpback whales breaching out in the distance of the Samaná Bay! Incredible doesn't even begin to describe it. It was just one after another after another. There was a lot of excitement over the radios between all the boats, all you could hear were endless "Wows" or "Look! Their right on your bow". Samaná is actually one of the largest humpback whale breeding sanctuaries in the world. It's estimated that 1,500 to 2,000 whales migrate here every year and lucky for us it just happen to be prime whale watching season (Jan 15 – Mar 31).
As the sun set is was nice that we had quarter of a moon so there was some light and so many stars. All of our other passages had been pitch black – not my favorite. As we approached Hour Glass Shoal, a lot of boats began to split off. Some went above, some went below the shoal. We chose below to continue hugging the coast and even though we were in 150 ft. of water you don't risk grounding the boat like you would a shoal in the Bahamas. The current and ocean swells here can stack up and this will either slow you way down or make for a very uncomfortable ride. We motored our entire crossing, however those that chose to go North of the shoal we heard later on that they were able to get some decent sailing. Once we arrived closer to Puerto Rico we were protected by the wind shadow of the island and for the rest of our ride in it was like glass! So beautiful with the mountains in the back ground.
After all of the waiting, nerves, lack of sleep, and weather planning, the Mona ended up being really good to us! We'll be hanging around here for a bit while we plan our route around the south coast of PR. But SOON we will be in the Caribbean, island hopping our way through the Virgin Islands, our ultimate destination this year! 🙂
Passage stats:
Samaná to Puerto Real – Marina Pescaderia
3/12 – 3/13
2pm – 1pm

23 hrs
148 NM
Avg 6.5 knots
Max 8.6 knots
CBP Roam App
Last year we used the ROAM App to check back into the US from the Bahamas. It's so easy and convenient to use so I was thrilled when I found out it also covered entry into Puerto Rico! If you already have this downloaded and all your information is filled in, it takes maybe 5-7 minutes from reporting your arrival to video confirmation – depending on whether the agent is immediately available.
**Something we totally forgot about this season was updating our DTOPS decal. Which is similar to a cruising permit and can easily be purchased for $30. Typically this is mailed to you but since we are live boards with no mailbox you can enter in the payment receipt number.
Cheers from PUERTO RICO! 🙂