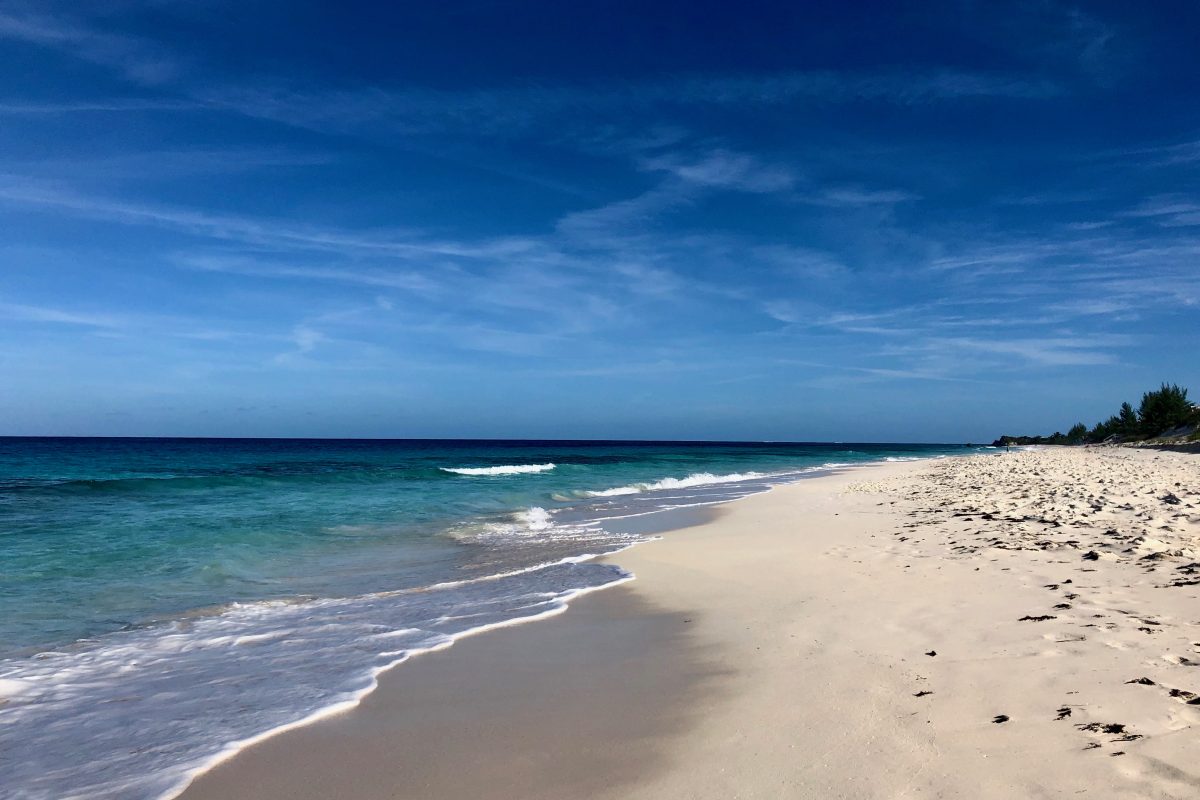 4 Jan 2019
Pit stop in Great Guana Cay + Marsh Harbour
Great Guana Cay
After a stressful situation with our windlass we set anchor for one night at Fisher's Bay in Great Guana Cay. Our stop here was so-so and after a few hours walking around town we quickly figured out that this wasn't the place for us. It does have a really beautiful beach that stretches for miles along the Atlantic coast and there are several restaurants on the island. Orchid Bay (slightly formal) with a nice porch, Nippers (think wild Spring Break party), and Grabbers (more relaxed, pricey food, but the service and broken hammocks were disappointing). There's a well stocked grocery store and golf cart rentals but you don't really need to rent a golf cart, because there's only about 2 miles of narrow road. Just walk! Unfortunately, it's just a "man made" tourist attraction with several ferries in and out of the island carrying very large crowds. Our first trip into town was somewhat empty but our second trip in was shoulder to shoulder people and flying golf carts. Hindsight we probably could have just skipped this stop. It wasn't our speed and didn't feel like the real Bahamas we know and love.
Marsh Harbour
Marsh Harbour is the hub of the Abacos making it a highly desired first stop for cruisers to provision, make repairs, and have fun. We docked at Harbour view marina on NYE, while our windlass was out of commission and to ring in 2019! We had a fantastic fireworks display from our boat and enjoyed some bubbly before midnight. For low season (Sept 1st – Feb 28th) the dockage rates were pretty great, facilities we very nice, and plenty of staff if you needed anything. We enjoyed our stay as we took care of business and would recommend this marina. Marsh Harbour also serves as a "bareboat charter capital" and has the largest international airport so it's definitely busy yet they still function on an island time motto. Maxwells Grocery was fantastic, we re-stocked and spent around $150 on essentials. Colors by the Sea and Jamie's Place were our two favorite meals. Jamie's has a great selection of ice cream too 🙂 It was nice taking advantage of the good weather and a few mornings I went for a run around the island and into the Abaco Beach Resort and marina. They have some nice paths and you can run along the docks and beach. We also got to catch up with sail friends SV Indian Summer, they were docked over at the Conch Inn marina. I'm still searching for a particular bottle of Gin from the states, so we walked to Bristol's Duty free one day, but no luck. Great prices though!
Now that we're stocked up with food, water, diesel and finished with some time sensitive boat work we are moving on from the Abacos and heading to Eleuthera! Looking forward to some out island sand bars, crystal clear waters, and $4 conch fritters…no joke there $17 here! Wtf…
Cheers from the Bahamas!