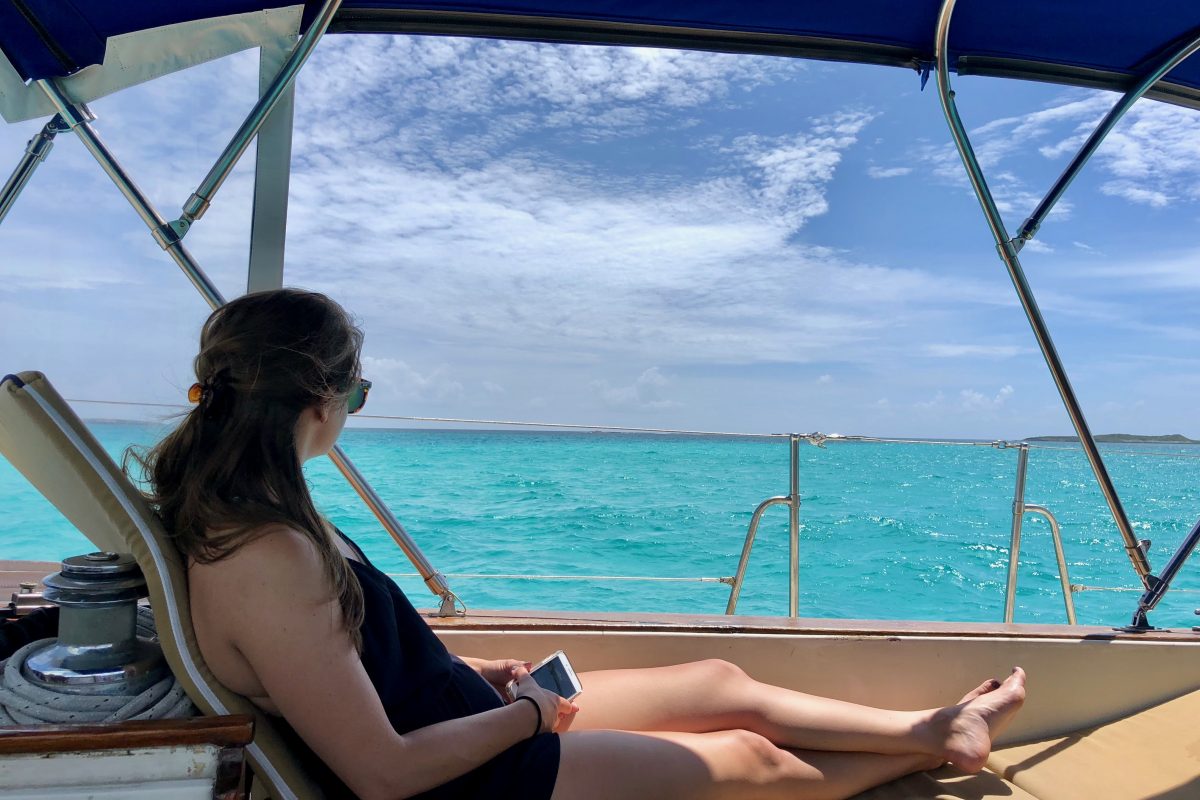 2 Jun 2018
Preparing for guest aboard
Welcome aboard S/V Sea duction!!!
We had FOUR guest aboard this season! After speaking to other cruisers we realized this was a lot and we really appreciated everyone who came to visit us. From FL, NYC, and CA, they could have spent their time anywhere else but chose to experience liveaboard life to its fullest, with us in the Bahamas!
I think we did our best acclimating all of our guests to life aboard and I think they got the full experience! Everyone enjoyed at least one if not multiple wet dinghy rides, took cold showers, endured no-see-ums bites, had something toasted in the oven for breakfast, helped us with closing all the hatches at 2am due to rain storms, and pumping their poop (haaaaaa!) 🙂 We had a blast and made memories that will last a lifetime.
As new cruisers establishing our boat rules was something we had to really think about, and trust me it's a lot to think about. Having guest on a boat is much different than a home. So before each guest, I began with sending a "Welcome Aboard" email with important items such as a packing list, our roles aboard, I asked for any food allergies to help us with provisioning, and let them know once aboard we'll do a full tour of the boat and go over some important crew checklist items. Here's our list.
Crew checklist: 
How to use showers and heads
Water (drinking vs. cooking)
Power (lights/charging)
Three points of contact, meaning hands and feet are in contact at all times while we are underway/entering companionway stairs, etc.
Getting on/off the boat
Sea sickness
Cockpit rules
Galley
Opening/closing hatches and portholes
Garbage
Safety (medical kits and ditch bag)
Wet towels and swimsuits (stowing/drying)
Learn the lingo (port, starboard, forward, aft, galley, cockpit, salon, bow, stern)
Packing:

 
The goal is comfort! Think water and wind.
Passport
Cash (Islands are very cash friendly)
Sunscreen
Seasickness meds
Games/Entertainment (ipads, books, etc. download everything before you leave)
NO: hard suitcases, blow dryers, flat irons, jeans, heels, dressy clothes, nice purses or valuables.
YES: hats, bathing suits, sunglasses, cover ups, dresses, light weight shorts, tanks, tees, yoga pants, anything water proof; shoes, rash guards, jackets, easy to stow duffles, small backpacks (easy for the dinghy rides, which can be wet). Footwear; flip flops, flat sandals (no wedges), easy slip on/off sneakers.
Biggest advice we could give to those booking tickets was to invest in the travel insurance. It's an extra $25-30 but money well spent since you just never know with a boat. We met several people who weren't able to meet their guest due to boat issues or unfortunate weather. It's better to be prepared for the unknown and give everyone piece of mind.
Thankful for this crew, here's highlights from our first cruising season! 🙂
Cheers from the Bahamas!