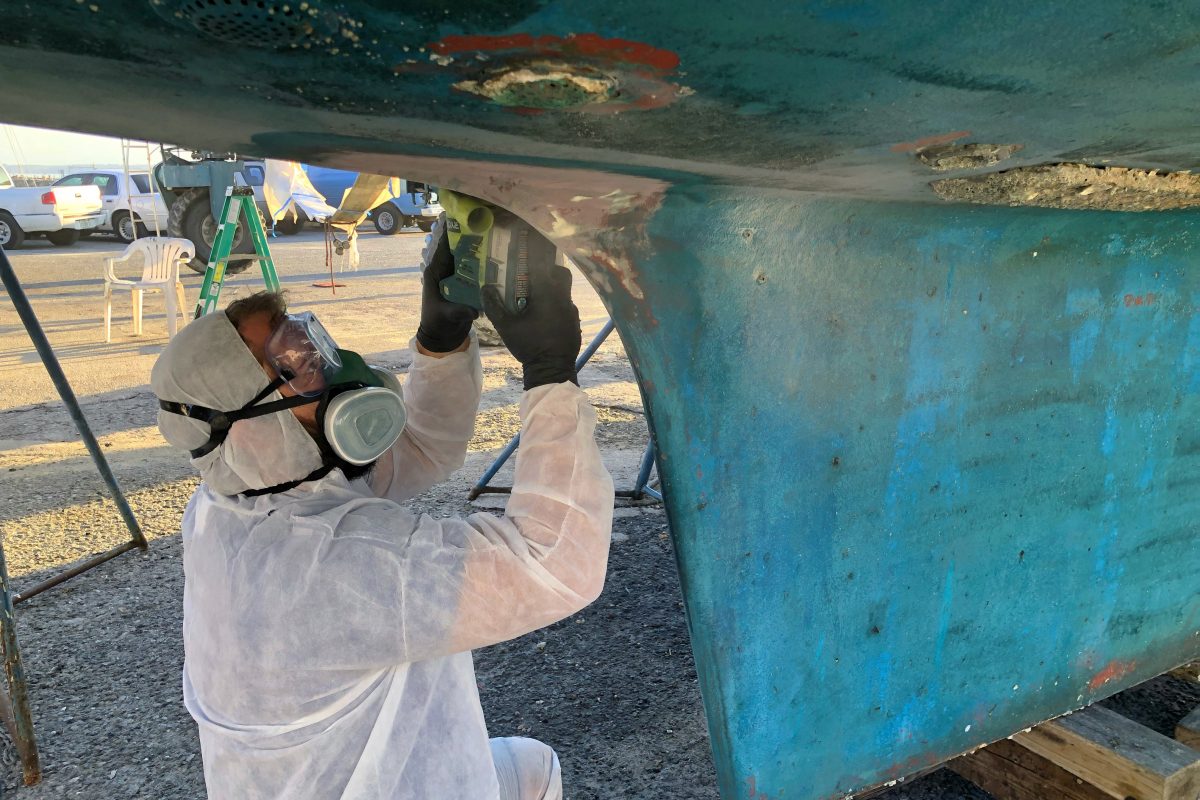 27 Oct 2018
Sailboat Maintenance – Bottom Work
Approaching our second sailing season! Which means it's time to get our lady prepped for the seas. Like any vehicle, maintenance is required except a boat is a little different than what we've been used to in terms of "vehicle maintenance". Having the boat on the hard has been an interesting experience. I sadly missed this project while I was in London for a week 😉 but Brent did an AMAZING job! And I gotta give kudos to our friend, Kevin for helping and stepping in to play photographer for me – Thanks!
Why do you have to paint the bottom of a boat? Well, you don't "have to" but fresh bottom paint prevents the growth of little sea creatures that like to attach to the bottom of the hull – ours was a little green and slimy when we hauled out. Ultimately it can affect the speed and performance when the boat is kept in the water for a long time. Our boat hadn't been hauled out since we bought her almost two years ago, and we did our best cleaning the bottom while we were in the Bahamas but this maintenance was well overdue and much needed!
Where do we start?
Process:
Moved the boat from long term storage to the work yard on Saturday Oct. 13th
Start with prepping the work area, organize tools, and taping the water line, etc.
Then suit up and begin sanding, grinding all holes, bad spots, and blisters.
We had a small crack behind the keel which required some additional work and a new prop…pricey!
Once sanded its time to add epoxy and epoxy filler
Re-sand to make it flat and use fairing compound to make it nice and smooth. Then sand again!
Add a barrier coat (primer) after fairing, you'll want to wash the boat and wipe down with acetone beforehand
Once the barrier coat is complete then its time to paint the bottom
Last is to move the stands, wash and wipe down with acetone in those areas, then finish painting.
End result is a clean hull with a matte finish
"Splash it" Friday Oct. 19th she went back into the water – Yay!
So what's the cost of painting a boat bottom? You can either do it yourself or hire a professional which will set you back about 3K, the job quote we were given for 44-ft sailboat. BUT with any DIY, the trade off is time, you'll save money by doing it yourself, but it'll take some time and LOTS of prep! Cost will vary on size of the boat and also the conditions.
DIY Cost breakdown: 
Materials: Harbor freight sander ($34.99), sandpaper ($16.48), coverall suits, mask, paint brushes, rollers, tape ($50.00)
Purchased: Propeller + Cutlass bearing ($1,000) We did have to hire someone to pull/replace the bearing since we didn't have the tool and the tool would have been much more than the labor ($90.00)
Coats / Gallons: 2 total coats +  5 gal purchased
Epoxy: Wet Systems 105 ($75 1 gal) + Epoxy hardener 206 ($41 quart)
Bottom paint: Pettit Trinidad Pro ($160 per gal – @5 $800)
Work yard: GCSM is $22 a day for the work yard + the fee to go back in the water ($295.70)
Total: $2,403.17
We've spent the past week getting everything cleaned, washed, organized, and smelling good again, haha. Now it's time to head south on the ICW, where we'll be staging Sea duction and get ready to cross back over to the islands! 🙂
Cheers from the marina!