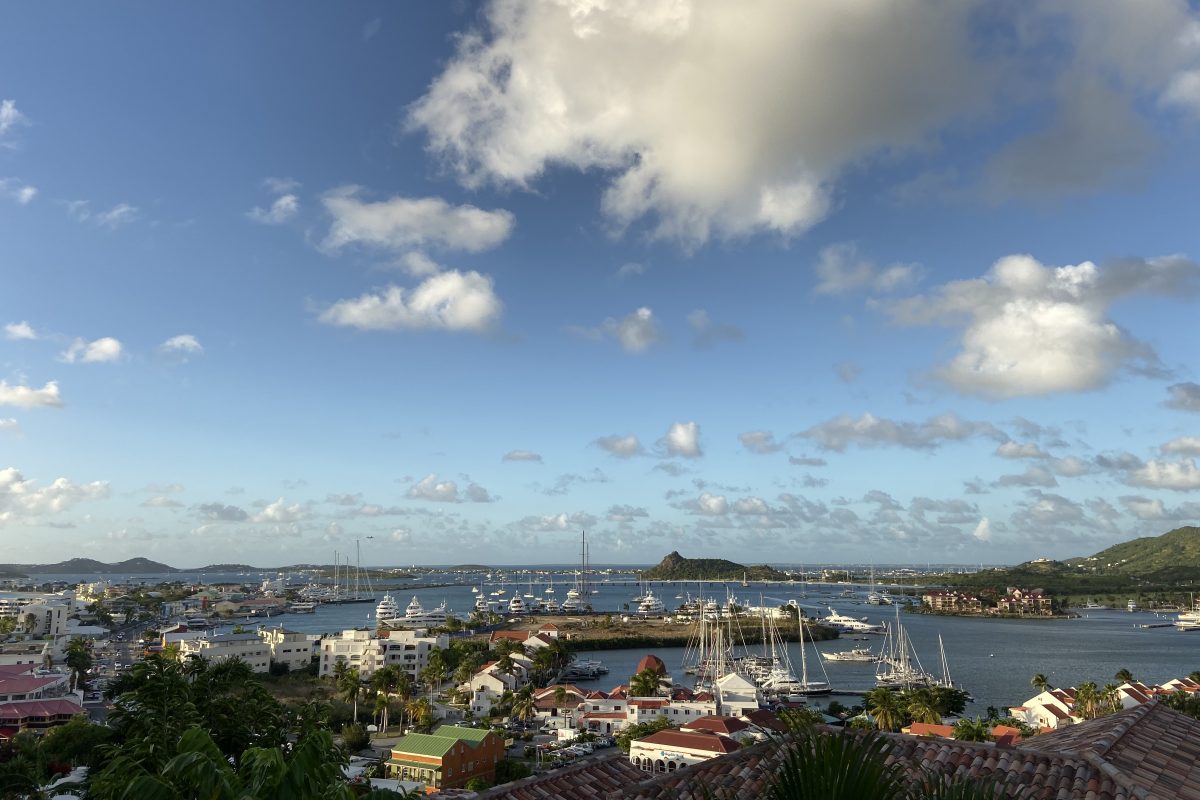 22 Dec 2019
ST. Martin / ST. Maarten: a land with two faces
After weeks of preparation and a relaxing Thanksgiving in BVI, the forecast finally called for a good window to cross the Anegada Passage over to St. Martin. We staged up at our fav, Cooper island and waited for our 5pm departure, a 13 hr/ 85 NM journey. It was a motoring event only but we were happy to have smooth conditions for our first long sail of the season. 2-3 feet on a 9 sec interval, some light showers but lots of stars, cruise ship sightings, and its always a plus when we get to shift in and out for sleep. We arrived at first light and anchored in the bay outside of the Simpson Bay Bridge as we waited for its first opening of the day.
St. Martin and St. Maarten allows you to hit two birds with one…island. It's two distinct and lively cultures but both are delightful in their own way. We spent 3 weeks in the St. Martin lagoon located on the French side taking full advantage of all the inexpensive bread, wine, and cheese!
The stress-free vibe of how easily you can pass between both sides of the island is pretty fantastic. We really enjoyed the perks of having two distinct cultures within a 37 square-mile radius.
Entering /Exiting the Lagoon
The lagoon is split between the French and the Dutch side featuring two draw bridges. The bridge schedule is super important when planning your arrival/departures.
For either, a line will usually start to form, so it's important to contact the Bridge Operator via VHF 12. State the obvious, boat name and business to either enter or exit. Entering: You must visit the Port Authority office located at the Simpson Bay Police Station to pay your bridge fees. We did Simpson Bay and the Causeway bridge so it was $21.00.
Pros to being inside the lagoon are: calm water; large cruising community, provisioning, fuel, water, marinas, access to airport, rental cars, restaurants and bars. Outside of the lagoon is another anchorage, Marigot bay, the water here is really beautiful and its conveniently located near the center of town on the French side but depending on which way the winds are blowing you may want to duck inside of the lagoon.
The Dutch side
St. Maarteen is festive with a lively nightlife, marinas, cruise ships, casinos, major resorts and even a movie theater! If you have a mega yacht or are looking to marina hop the Dutch side is perfect for that.
Our time on the Dutch side was a little bit of business, we took advantage of all the marine stores but mostly we had fun! It was the better side for meeting up and socializing with other cruisers or to just walk the streets and play tourist.. If your not comfortable with the potential language barrier of the French side, majority of everyone on the Dutch side speaks English.
We didn't waste any time getting off the boat and renting a car to explore the island. Driving this island by car is really fun! I highly suggest it! Hertz Rental car – ($60 total) was conveniently located near our anchorage and they have a private dock where we were able to leave our dinghy at as long as you are paying to rent a car. If not, I wouldn't try to dock here. If you find yourself driving along A.J.C Brouwer Road, which connects Phillipsburg and the Simpson Bay area, make sure you pull over at Bell's Lookout Point for a panoramic view of both the Dutch and French sides.
St. Maarten Yacht Club – Directly beside the Simpson Bay Bridge, the patio brings in a large crowd because its a great spot to grab a drink and watch all the sailboats and mega yachts enter in and out of the harbor. When we went through it felt like we were in a big parade. People were waving and taking pictures of us.
Drama unfolded here after a mega yacht smashed into the bridge and destroyed the observation station. Yikes! >>See Here<<
Lagoonies – The designated spot where cruisers/sailors gather. Happy hour available too! We had two great meals here and were excited to find that its also a microbrew…It's been a while since we've seen an IPA (Pelikaan) offered on the islands. Great dinghy dock located directly in-front of the restaurant.
Carrefour – Just yes! Stepping into this store made me feel like I was back in America. Really good stuff! Beautifully organized and offers lots of fresh veggies, meats and fish in many variations. Wine, cheese, bread offerings also great too. So far, its been the biggest and best Carrefour we've been to in the Caribbean!
Budget Marine – If your in need for something for your boat this is one of the best places, we were able to find a new alternator right on the shelf.
Zee Best Coffee – And it is "Zee Best" Coffee Shop WITH a pastry wall. We spent a few mornings working from the cafe (free Wifi) with our laptops and ordering the Cheaters omelette (Egg whites, goat cheese, ham, basal, tomato – SO good!) I'm still dreaming of this omelette 6 islands away.
Tropigas SXM – Propane refill and supplier, a little higher on price $20 US, but it was the only place open that day and we needed it. Too far to get there on foot, so you'll need a ride or car.
Island Water World – Pricier than Budget Marine, but the staff is very knowledgeable and the inventory is different, so you may find things here that won't be sold elsewhere. Water, gas, diesel dock available here. You can also rent some really nice bikes here to cruise around town.
The Boon – Beautiful location right on the beach, which made for an amazing sunset. After a full day of driving the island this was a great place to sit and relax with a cocktail. Also, the coconut shrimp were mere perfection.
Napa Auto Parts – 10 minute walk from Island Water World dinghy dock, we stocked up on a few belts, had to order them but they quickly delivered within two days for pick up.
Carousel Gelateria Bar – Beat the heat with a cold treat and air conditioning! Not open on Mondays.
Market Garden Supermarket – Good food selection, more American like and with all the major brands. Offers food delivery, felt like this was geared more toward the tourist and mega yachts as you'll see all the crew shopping here.
Maho Beach – If you haven't heard about this "famous" beach, it's the most touristy and it's also known for incoming airplanes descending shocking low into the airport. People like to gather here for when the planes take off, the jet blast are so strong it'll knock you back or blow you into the water. >>See here<<
It's become a dangerous attraction, so the local government has put in several large signs, warning that being too close to the departing aircrafts can "result in serious injury and/or death". Within the past year or so additional fences have been added behind the runway.
Parking here was insane, there is a tight narrow road through so everything moves very slowly due to the sand and water that's washed up over it. Several cars and trucks got stuck. Further holding up the traffic. Honestly, this really isn't our thing and didn't rank very high on things we wanted to see but while driving the island we ended up close by so why not see the airplanes and people get blown away. We only ended up seeing a few small planes land that day. Which ended up being pretty cool to see.
The French side
St. Martin is intimate, relaxed, and known for its French/Creole cuisine, outdoor shopping markets, and nude beaches.
Clearing into St. Martin has been one of the most unique experiences mainly because of how extremely easy and laid back it is! In fact, none of the French islands are equipped with a designated office or customs staff to conduct the standard check-in process we've been used to in most countries. Check-in consist of a single computer that's usually located within a gift shop or marine store. In this case, its located inside lle Marine. It cost nothing to clear in however, you can make a donation and those donations go to the French coast guard.
We chose to anchor on the French side because it was super protected and we were expecting some unfavorable weather. It also allowed us to have access to both sides and was somewhat of equal dinghy distance. As the Christmas Winds picked up, a lot of boats came in, so it got pretty crowded. For days it was blowing 20-30 knots with even higher gust. Oh and lots of rain. I mean LOTS. We had to do a rescue mission for one of our cockpit cushions that blew away but other than that holding was great for us here. We heard later, that there were some boats that dragged.
Note: Sadly, you won't be swimming off the back of your boat in this lagoon. The water isn't the best here, our anchor chain even got a little slimy after a few weeks.
As for theft, we heard it used to be high and a very serious problem. We were told by many to lock up your dinghies, hoist them up at night if you can and so we did. However, we didn't hear of or experience any problems.
Another fantastic stop on our grand driving tour of the island is Pic Paradis, the highest hilltop with an elevation of 1,391 ft. You can hike the entire thing in a few hours, or drive part way and hike the last 10 mins to the top. Either way, you'll be greeted with some breathtaking views.
Loterie Farm – Neighbors to Pic Paradis. A luxury property known for its pool party that's thrown the last Saturday of the month. Cabanas for rent! If you want to hike Pic Paradis, you can start and end here, however I believe there's a $5 fee to enter. Since we had the rental car we drove up and did the 10 minute hike instead.
Super U – Hands down the best selection for French wine and cheese! Such a great store, all products flown in from France. Shopping here gives you more for your money then on the Dutch side. If your craving a Royale with cheese, the McDonald's is right next door too!
La Main à la Pâte – Good spot for drinks, cozy with a view of the harbor, and very French. So we enjoyed a glass of Champagne to celebrate our arrival to the French islands. The location and service was nice. Heard mixed reviews on the food.
So Benedict – New addition to Marigot, the cutest little breakfast spot! Sadly, we didn't get to go back for the food due to the protest/closures (see below) but the cappuccino we got to-go was delish! It's definitely on our list for next time.
La Croissant – Best crepes on the island! You can't miss this place because its right in front of the dinghy dock.
Fort St. Louis – 18th-century French military fort with good views of the harbor and city. The Fort was partially restored, but damaged by hurricane Irma. You can walk all the way up from the street level by a stairway or drive up to the parking lot and walk the rest of the way.
Digicel – Both reps spoke good English, just note they are not open on weekends. We purchased two SIM cards of the 50GB data plan. Best to buy the service on the French side as it covers all of the Caribbean chain. If you purchase this on the Dutch side it will NOT work in any of the French territories.
Le Marrakech – This place came highly recommended to us as the best Moroccan food ($$$). Amazing what this place looks like inside compared to from the street. We ate very well, hearty and very tasty meal.
Laundry – There are several options.
Shrimpys on the French side is by the TOBY (Time out boat yard) its 12 euros a load
LM laundry on the Dutch side (directly behind Lagoonies) drop-off only $40 1 load (wash/dry)
Self service / coin (euro) on the French side – its directly next to the Super U, however a pretty far walk to haul everything.
Self service / coin (euro) on the French side past TOBY – 5 euro wash / 3 euro dry. Air conditioned too! 🙂
I went with the self service in Sandy Ground after an unpleasant experience with LM Laundry. $40 dollars for 1 load, that's just plain non-sense. I got 3 loads done for $24 at the self service, plus you can grab a beer at the Chinese restaurant next door. Food here looked legit!
Wine Tasting aboard SV Top Secret – With the riots happening in town, new boat friends Mel and Dave from SV Ar Sgrail decided to put together a wine tasting night. Mel's a certified sommelier who on top of sailing also blogs about her wine adventures >> check her out<<
We each chipped in $10 and Mel made some fantastic selections for us from the Super U. Four couples boarded a beautiful 59-ft Catamaran for the evening with wine and delicious food in tow. It was a really fantastic evening! Rean and Mari have such gorgeous boat, super kind of them to host all of us. And their dog Pepper is the sweetest.
Water delivery – Arthur and his pup Shaggy will come directly to your boat. We called him the day before to set it up – VHF 10
St. Martin Protest / Riots
This is what we know and experienced
After suffering massive damage from Hurricanes Irma and Maria the island of St. Martin/St. Maarten continues its efforts towards recovery. The Dutch side has recovered more quickly and is business as usual, however on the French side the damage is much more visible. Recovery has not happened as quickly on the northern side of the island. The locals demand for acceleration of reconstruction, better housing, and a complicated dispute of "stolen land". Which has angered a lot of St. Martiners. Overall, a very sad situation to witness.
It started with roadblocks which later escalated to fires in the streets. Lots of vehicles and garbage bins were set on fire. You could hear loud pops in the distance followed by lots of black smoke during the day and at night. The protest action brought out the Gendarmes in large forces to combat the protesters, in some areas such as the bridges tear gas was used. Despite all the rubbish in the streets, it was a relatively peaceful protest. I say that, because it was not geared towards tourist, cruisers, or even their own people but with their government. We never felt unsafe or threatened, obviously we didn't go walking around late at night but during the day we'd smile, say hello, and go about our business.
Île Pinel and Île Tintamarre
Off mainland St. Martin lies these two uninhabited islands accessible by private boat only. Due to the Christmas winds, we never made it out of the protective lagoon and once we got a decent weather window we decided it was time to get moving south. This was such a bummer, both of these locations were high on our list. We were able to see them from a far while we had our rental car. Gorgeous looking anchorage and bay with beautiful water and beaches. Hoping on our way North we get the chance to explore more outside of the Lagoon.
Our overall feeling of St.Martin was that although certain parts were beautiful and we enjoyed what both sides had to offer. We weren't overly impressed and wouldn't consider it a top cruising destination. Its a fantastic place to be idle, meet cruisers and there are a ton of resources. It's the perfect place to do boat work and stock up if you're beginning the cruising season and/or making your way North or South.
Cheers from the Caribbean!