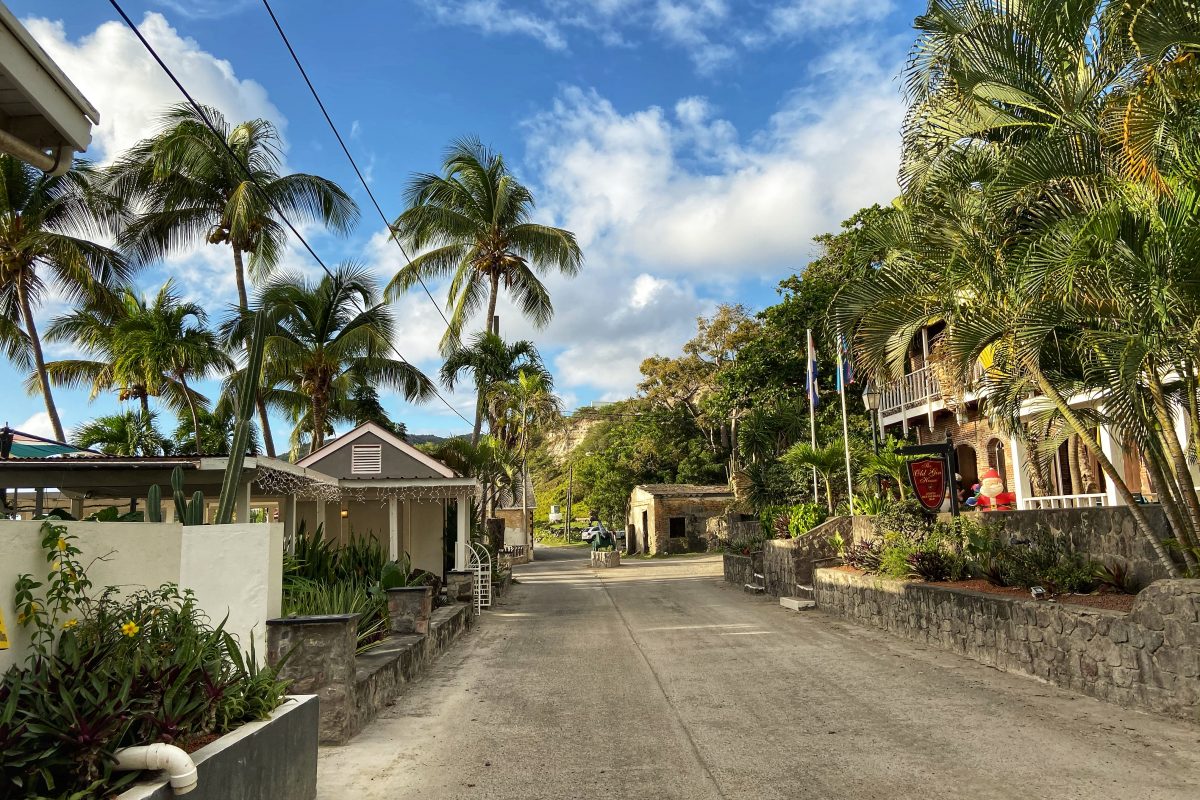 27 Dec 2019
Sint Eustatius: an island out of time
Our passage over to Sint Eustatius, locally known as Statia (Stay-sha), was anything but as predicted. Starting with a Mega yacht traffic jam coming out of the Simpson Bay lagoon where we were greeted with rain showers and squalls right after raising the sails followed by a brief engine fail and ending with some very confused seas that made for some uncomfortable salty sailing…Needless to say, we were both pretty happy to see land. We immediately hopped in the dinghy and went ashore where we enjoyed a famous Statia goat burger.
We spent an action packed two nights in the rolly anchorage of Statia with 3 other buddy boats: SV Haven, SV Ar Sgrail, and SV Sayonara.
SV Sayonara reeled in a huge Wahoo on the sail over so the 8 of us had two fantastic fish dinners aboard their Catamaran. Not to mention we also slept in one of their 4 cabins due to how rolly it was. They offered, and usually were the type who would have just politely declined because we don't like to impose but it was so rolly that our boat mast looked like a metronome (barf!) and I just didn't have it in me to tough that out. So I happily accepted the invitation for us both!
Oranjestad Bay
It's hardly a tourist destination. You'll likely be pretty disappointed if you're expecting luxury or nightlife. Unlike its surrounding islands there's nothing touristy here. Statia very quietly exists, and that is part of its charm. It truly is a hidden gem! With a population of 3,600, you can easily walk the entire 8 square miles and the town is split into two sections: Upper Town and Lower Town. The history here is very rich. During the 18th century Statia rose to prominence through a combination of Dutch trading and the American Revolution.
Upper Town – Is like taking a step back in time. It's quite and unhurried. The streets are lined with stone, old iron street lighting, and beautifully preserved dutch architecture. There is no traffic or traffic signs.
Lower Town – Skirts the rocky shoreline and serves as the island's port. Its more popular for its waterfront restaurants and dive sights. This part of town was built on sand behind the seawall, but over time the town sank into the water (sadly) as hurricanes wreaked destruction.
Boardwalk Cafe – Nice place to be, good food, and very friendly staff. Excellent for sun downers! Plus, the famous Statia goat burger.
The Old Gin House – Beautiful hotel! Bar/restaurant overlooking the ocean makes for a great spot to watch the sunset. Full menu for food is on select nights. Rooms are under $200 a night.
Blue Bead – Post hike lunch and ice cold beers! You have to get the buckets of fried chicken if it's on special! Very good! Fun insight regarding its name: Blue Beads were manufactured in The Netherlands in the 1660s and are a unique gem found on Statia. Legend has it that blue beads were given to slaves as payment. However after the emancipation, the slaves threw their beads in the air to celebrate, and they are still found on the island to this day.
Golden Rock Dive Center – If you're planning to hike the Quill. Make sure to stop here and buy the trail tag ($10 per person). Its also available for purchase on their website. It's good for one year and includes both The Quill and Boven National Parks, they're within two miles of each other and offers 17 different trails.
Sint Eustatius National Parks Foundation – STENAPA, the island's national parks foundation and headquarters. You can walk through and see the islands history.
Customs
All four boats tried several times to check-in with customs, however, each time we were told to either "come back later" OR that the person in charge was "not in today". There's a random pay phone nearby, it's a direct line to the customs office. After a 3rd and unsuccessful attempt we decided to move on from clearing in…Oops…but what can you do. It left us a little worried about our next port of call (St. Kitts/Nevis) but it wasn't a big deal. We just smiled and casually mentioned what happened.
The Quill
No guide needed.
Towering above the town is the Quill, a 1,968-foot extinct volcano, its lush crater is host to a rain forest that looks like something out of Jurassic park! There are various well-marked trails with difficulty levels however hiking to its peak is the most popular. See video of our hike to the top >>Here<<
Advice:
Go early to avoid the warmest part of the day (11-3pm). We started at 9am and finished around lunch time.
Plenty of water and snacks
Stay on the marked trails
Fort Oranje
Perched on top of a cliff overlooking the bay is Fort Oranje, it provides a great view of the harbor. Although not a super fort like you'll find in St Kitts (Brimstone), but this fort played a very interesting role in the American Revolution.
Note: The surrounding cliff is undergoing an extensive erosion protection treatment.
Unknown by many Americans, including myself, Statia was the first foreign power to recognize the independence of the United States of America known as the "First Salute". USS Andrew Doria sailed from Boston Naval Yard to St. Eustatius. Flying the new US flag as it entered the harbor and firing off 13 salutes of its arrival. With them was a copy of the Declaration of Independence for Governor Johannes de Graaff of St.Eustatius on November 16, 1776. This was the first time another country formally acknowledged a vessel from the newly independent United States.
Theres a plaque located in the center of the courtyard, presented by Franklin D. Roosevelt.
As I'm sure you can tell, Statia is completely off the crowded and beaten path. While reflecting on our time here I was tempted with the idea of not sharing so much about it and helping keep it an untouched secret. While you may have to tough out a night or two in the anchorage, this little island ranks very high on our Caribbean sailing experience…and were only just getting started down the island chain!
Cheers from the Caribbean!