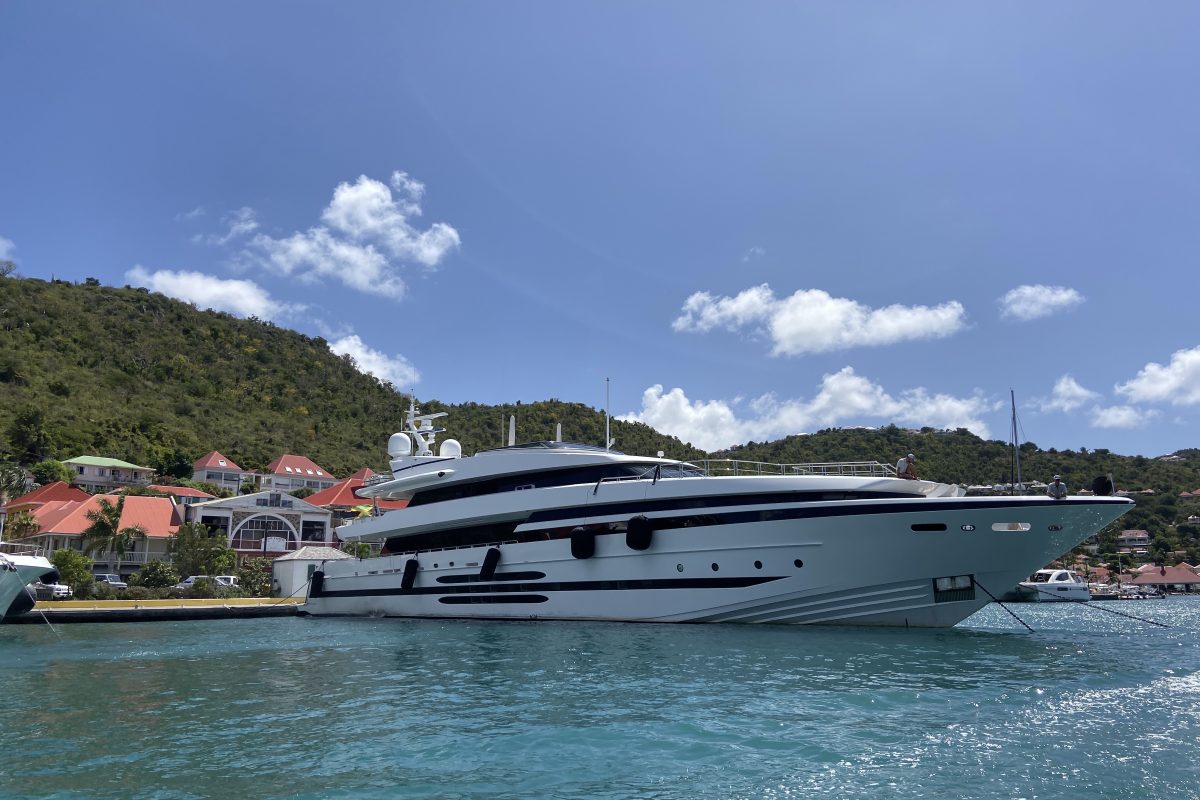 20 Mar 2020
St. Barts: Endless beach-going, eating, drinking and shopping
And just like that we're back in the French Caribbean! The rich and famous, gorgeous Saint Barthélemy to be exact! Otherwise known as St. Barts (or Barths, depending on who you ask). This tiny 10 square-mile island is notorious for drawing in a flashy clientele, and popular within the yachting community, and many a super-yacht docks at its marina.
At the beginning of March, the WHO officially declared the coronavirus as "a pandemic." So our time in St. Barts was short and sweet. We were up against time to get to USVI and set our sights on St. Martin for a quick provisioning stop of all our favorite French goods. Little did we know, we'd be "stuck" there for 13 weeks! Again, more on that later…
Our sail from Montserrat to St. Barts was a pleasant one. We got to put the sails out and "tried" to do some fishing, eh, nothing but Barracuda city though! We did make a make a quick stop in St. Kitts, as the hop from Montserrat directly to Barts was a long stretch. With uncertainty looming, a quick overnight in St. Kitts allowed us to meet up with friends SV Borealis, enjoy one more meal at the Charlestown food stalls and soak in the hot springs.
Colombier Bay
Located at the tip of the island. A Lovely anchorage, surrounded by lush greens, its a cove-like beach featuring fine white sand and clear waters. It was protected, comfortable, and we had no problem securing a mooring. There are no facilities, and the beach is accessible only by boat or for those who want to brave a rocky goat path to get there by foot. The hiking trail (30-45 minutes) leads you to/from Gustavia. We heard it was hot and strenuous, so we opted to go by dinghy, which I'm not sure was easier.
It's a long dinghy ride from this bay to the main town of Gustavia, I felt bad for our bums and our 15HP smashing into the choppy waves. However, I would still anchor here vs. Gustavia. Cruising through that anchorage gave me anxiety. SOOOO many boats and tightly packed. Seriously, I'd never seen so many boats in one place plus add in those mega yachts.
Gustavia
Charming coastal village. The downtown is filled with boutiques, galleries, and chic restaurants serving French-inspired fare. You may even run into a movie star or two. We just happen to see Sara Blakely, the owner of Spanx, chartering a yacht for her birthday. Cool!
First impressions, travelers vacation here to see and be seen. We also heard from several cruisers to avoid being here during December/January. Apparently its the place to be for the holidays and New Years Eve. So you can expect crowds and a flotilla of mega yachts.
We started our walking tour in the center of town and grabbed lunch at Le Select. A colorful outdoor patio, inspire by Jimmy Buffets 'Cheeseburger in Paradise'. We grabbed two burgers, fries, and calamari all for $39. Drinks are cheap too, beer $2.50 and rum punch $3.50. Plus free wi-fi! Afterwards we decided to walk off our burgers up to the lighthouse. You'll get a great view overlooking the Gustavia bay.
Originally our plan was to rent scooters and I had mapped out a fantastic adventure for us. Inclusive of, making a pit stop for foie gras frites at the swanky cliffside hotel Le Toiny, where you can lounge poolside, as well as Chez Rolande which is known for its conch gratin. But sadly, time just didn't permit. So, on foot we continue.
After a very sweaty walk to the Lighthouse, we treated ourselves to sampling the local bakery and gelato! On the menu; Mille fueuille, crumbly, flavorful, perfect icing. Along with mix and match gelato plus Nutella crepes! We continued with some window shopping. Barts has no income tax and its duty free. You'll find bargains in haute couture, watches and jewelry from high end designers…a girl can dream.
A 10 minute walk from town is Shell beach. Beautiful cove and the water is lovely and clear. Amazing amount of shells hence the name. Feels like you are secluded but you are very close to the harbor. There is a bar onsite. Follow the sign "Plage des grand galets". If you're feeling more adventurous you can hike up to Fort Karl. Its a short, but brisk hike (with lots of stairs) giving you another 360 view overlooking Gustavia. Beautiful Shell beach is below. My suggestion would be to go early morning. It was very hot and humid mid day.
On our way back to town we stopped at Bar de L'Oubli. Located in the heart of town. After a lot of walking it was the perfect pit stop and location to enjoy some shade and a drink at the end of the day. Cash (euros) only. For sunset we stumbled upon Bagatelle, nice view of port Gustavia. You can watch the "billionaire" yachts come in and enjoy pizzas on the patio (try the truffle one). At night it becomes a club so you can enjoy both food and music.
Last on our walking tour of Gustavia is Rhum room. Since writing this post I've been informed that it is now permanently closed. Bummer. It featured an extraordinary shrine to spirits with a mind-boggling lineup of around 650 rums from Anguilla to Venezuela, some of them aged as much as 30 years!
Overall: We've been to many Caribbean islands, I wouldn't say St. Barts is our absolute favorite but it was a nice change of pace. The people, clothes and decor are definitely more stylish and sexy than other islands. Yet, there is a casual feel/quaintness to it that's far from snooty.
We enjoyed the nature, food, and chic French spin on paradise. It's certainly worth at least one trip, just to say "been there".
Cheers from the Caribbean!