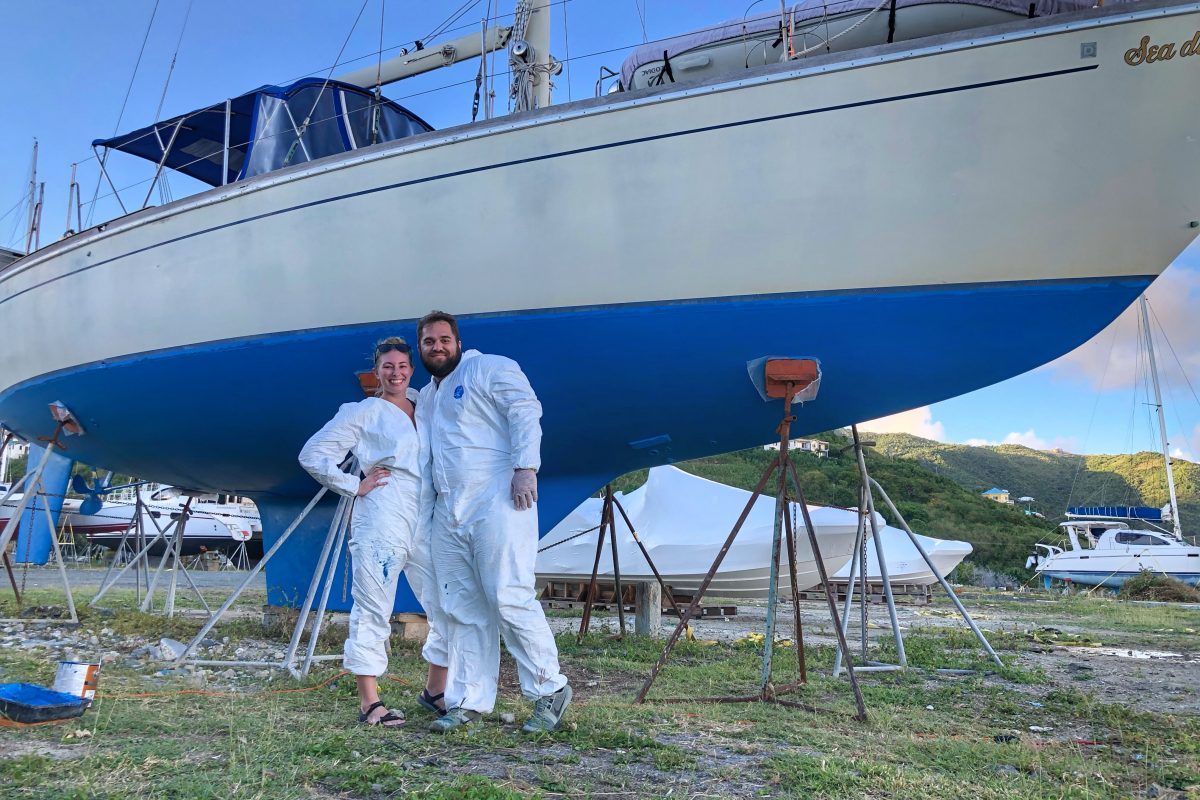 1 Dec 2019
Time to splash
We had a fun summer on land over hurricane season but we were also on the move a lot! 2019 was certainly a very busy year for travel.
After securing Sea duction on land and leaving BVI in July 2019 we bounced around the US for a few months; Florida, Georgia, California, Nashville, Chicago, North Carolina, back to California, Oregon, Las Vegas. We spent our summer sailing break with family, friends, focusing on work projects, and taking time for ourselves. I'm a firm believer in boat breaks, it's good to recharge, change up the routine, and enjoy all of the conveniences of land life.
Our last week in the states brought a lot of nerves – fear of the unknown. Our last two seasons we had the convenience of buying and stocking up on everything we needed in the US – Marine supplies and provisioning. Eek, not this year but I'll give an update on that later. Plus, there's the nerves of regaining our sea legs and just hoping that after 3 months on the hard the boat is OK. Especially after watching from a distance several tropical storms and Hurricane Dorian pass through the VI's which sadly devastated the Abaco Islands of the Bahamas.
We landed back in BVI on November 14, 2019 and immediately jumped into work mode: cleaning sanding, grinding, fiberglass, painting, and unpacking. For two weeks we were full throttle prepping our boatie home for our Season 3 adventure! It involved a lot of long, hot, labour intensive days in the work yard at Nanny Cay…those tyvek suits are BRUTAL to wear in the heat. Total exhaustion at the end of each day, but Brent and I did a great job of dividing and conquering our very large project list and were ahead of schedule on our splash date. Until…a crack behind the keel reappeared.
Let me back up a sec, we knew of this issue at the end of Season 2 and knew fiberglass work would need to be done when we hauled out. Can't exactly explain how we even got this small crack, maybe in the ICW where we once ran a ground (mud/sand) but a lot of work went into repairing it, so it was pretty heartbreaking to see it, again. Luckily everyone noticed something was wrong while the boat was in the travel lift and never made it into the water. I gotta say, Nanny Cay is such a well staffed and resourceful marina. The crew immediately pulled over their best fiberglass guy to asses the bottom. At this point, it just needed to be in the hands of a professional. His name was Tyson and he was worth the $500 labour bill for a job well done and peace of mind going into the season.
So WTF happened? The boat was blocked incorrectly. This is 50% our fault and 50% Nanny Cays for not inspecting that more before we started working. The weight of our boat needed to be shifted further forward, taking the pressure off the back of the boat/keel. This would ensure that once repairs are done, and the boat is lifted to launch, that the full weight of the boat doesn't just drop to its center of 26,000 lbs. Thats a lot of weight, which is why it instantly re-cracked the fiberglass.
Stressful process no doubt. However, we couldn't have been in a better place for this to happen. We are super grateful for Tyson's expertise and luckily we were only delayed by two days. Which allowed us some time to finally relax by the marina resort pool on Thanksgiving Day 🙂
Sea duction splashed on Thursday, November 21, 2019. Officially marking the start of our THIRD sailing season, so crazy to say! We're excited to continue our travels south!
Cheers from the Caribbean!