31 Jul 2018
ICW – Northbound P2
Part-two of our ICW adventure is about all of the land fun we had along the way! Part-one was more about navigation, bridges, and stories as first-time ICW travelers. But our favorite part of cruising the ICW was taking our time to explore parts of the coast of Florida that we hadn't seen since we were kids. It's definitely a unique way to travel but it will bring you to some great restaurants, bars, attractions and people!
Starting off: Jensen Beach/Stuart
We spent the week here after crossing back into Florida, it's situated between Ft. Pierce and West Palm Beach and the perfect place to recharge the batteries. Jensen has a reputation for its seafood-intensive restaurants (heaven!) as well as sailing, fishing, and surfing.
Dolphin Bar – Happy Hour menu rocks, try the mozzarella shrimp!
Pelican Cafe (Stuart) – Easy going tropical vibe with a waterfront view.
Crow's Nest – Everything from boat hardware to indian artifacts, theres all kinds of interesting odds and ends.
Nautical Pickers – Custom Marine Upholstery – buy, sell, and consignment.
Hutchinson Island – Relaxing, beautiful and quaint it is! Also attracts several species of endangered sea turtles during nesting seasons.
Second stop: Palm Coast
Palm Coast is made up of a mix of golf resorts and lush nature preserves – typical Florida retirement community, ha! We spotted a ton of dolphins and manatees on our way to the marina and we really enjoyed the convenience of staying here. Look forward to stopping here again on our way back south.
Moonrise Brewing – Nice little brewery! We stopped in for a couple of beers and were very happy.
Focaccia – Italian eats, we grabbed a slice to go (fresh & not greasy), sat outside and enjoyed some live music.
Farley's Irish Pub – Crisp perfect fries, patio…and it's Irish!
Salsa's Mexican – Colorful and comfy, we got so much food for an amazing price!
Great Wall (Chinese delivery to the marina) – After months in the Bahamas, delivery felt luxurious! It was hot and delicious!
Third stop: St. Augustine
Hadn't been back here since a middle school field trip to see the Castillo de San Marco … St. Augustine really has it all! Easily our favorite stop on the ICW and it was so much fun to experience it as adults. Not to mention we ran into friends from the Exumas, Brett & Kristen from SV Key Of Sea
Harry's Seafood bar & grille – We had a great table overlooking the beautiful bay. Still dreaming of this excellent meal!
Ancient City Brewing – Craft beer lovers! 10 taps and in the heart of downtown St. Aug. The Orange Amber Ale was awesome!
Gin Distillery / Ice Plant – Very cool vibe. Loved the decor, loved the waitstaff's attire. Great place to start off your day in St. Augustine! The tour is awesome too by the way!
Rype and Readi Farm Market – Two barns that house all sorts of produce and products, with live animals out back. Picked up some delicious cheeses.
Ann O'Malleys Pub – Hidden gem, you might even spot a pirate or two!
Maple Street Biscuit Co. – Breakfast spot, with a unique ordering style. Every Biscuit meal is amazing!
Fourth stop: Jacksonville Beach
Beaches, sports, arts, and breweries – you'll find it in Jax! It's got a predominantly young population, and one of the hippiest. We stayed here the longest and prepared the boat for our haul out. Highlight was getting to reunite with a childhood friend and enjoy fireworks from our boat on the 4th of July!
TacoLu – Wow! Just go. Seriously – Bangin' shrimp tacos – YUM!
Engine 15 Brewing Co. – Retro arcade games like Mrs Pacman, fun place to socialize.
KAMIYA86 – We're always on the hunt for sushi, great place for quality sushi in Jacksonville.
Fly's Tie – Not the classiest joint. The gem of this place is their outdoor seating area. Cozy seating with a fireplace in the middle.
Marker 32 – $$$ Very nice Waterfront Restaurant, next to our marina. Small plates and happy hour menu are fantastic!
Final stop: Green Cove Springs (Haul out)
Small town feel, everyone is friendly and accommodating. Green Cove Springs was our final destination on the ICW, reaching our final destination was a surreal moment. We did it! We completed our first season and sailed 1,300 miles.
Hungry Howie's Pizza – We both grew up on Howie's, its like tradition getting it every time we come across one in Florida. We had planned to cook and empty out the rest of our fridge on our last night BUTTTT…then we saw Hungry Howie's Pizza! Paired perfectly with champagne 🙂
Woody's BBQ – Post haul out meal!
There are some nice and convenient marinas along the ICW. We stayed at two, each for a few days as we made our way to Green Cove Springs. Just call ahead to make sure you get a space.
Palm Coast Marina ($1.32 a ft.) and Palm Cove Marina ($1.65 a ft.)
Laundry, Showers, Dock carts, Gift shop, Grocery delivery, Food delivery, Boat detailing, Dry storage, Free wifi, Free trash, and pool.
Palm Coast is a 10 minute walk from European Village, which offers lots of restaurants, micobrews, and a froyo shop! Additional shopping was a short Uber/Lyft ride away.
Time to fill'er up?
We made a stop at Telemar Bay Marina en route to Palm Coast, really great fuel dock and service. We filled up with diesel and topped off our water tanks. Then took advantage of an opportunity to quickly wash off our deck and anchor since it was covered in some pretty nasty black smelly mud — gross! It was hot as hell so we couldn't pass up the Nestle strawberry shortcake bars for sale! 🙂 Tom, the dockmaster was super friendly and made getting on/off the dock nice and easy.
Diesel: $3.579, tax not included (7.00%)
Payment: Visa / Mastercard / Cash / AMEX
VHF monitored: 16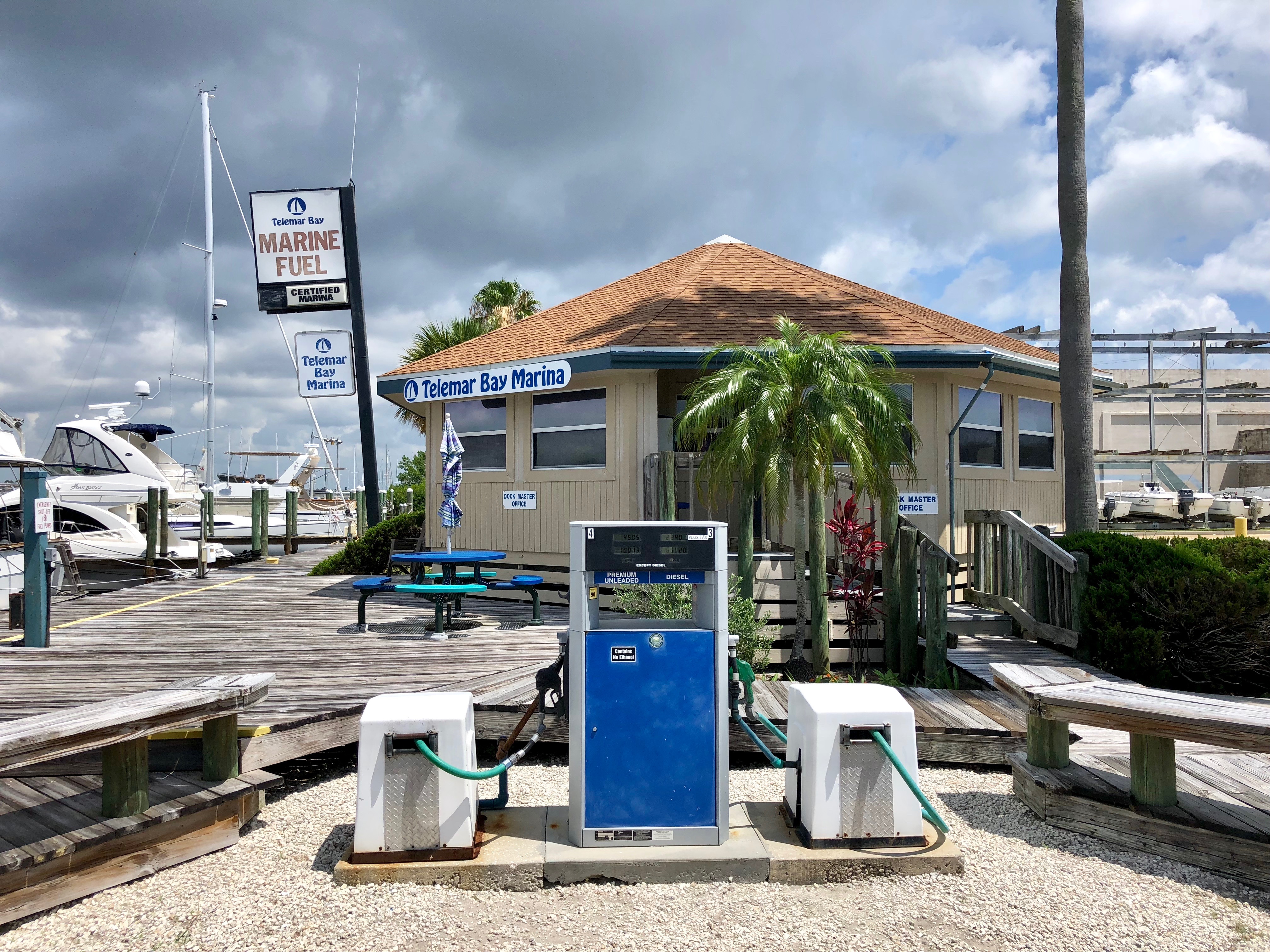 Cheers from Florida!