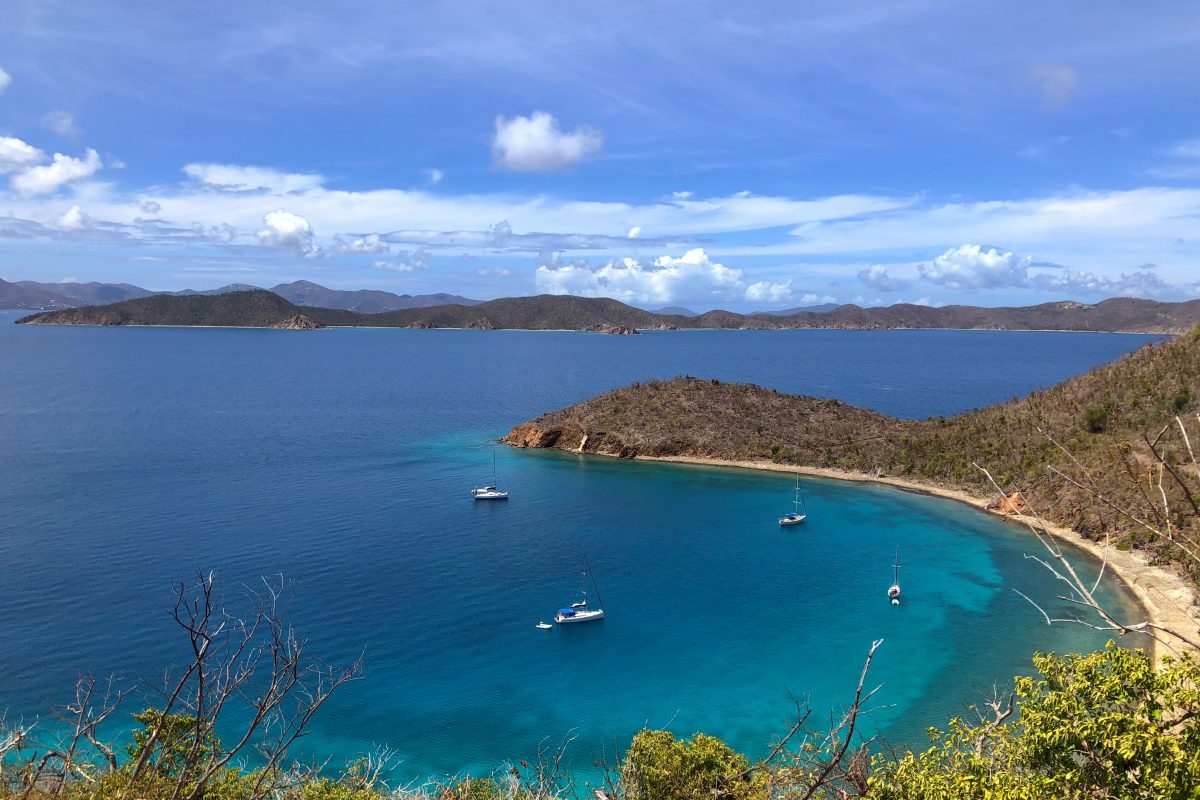 5 Nov 2019
BVI: Exploring Nature's little Secret
Island time rules in the British Virgin Islands! Every spot has its own flavor and flair, if you want to party, there is always a place to party. If you want to relax, plenty of that as well. We spent the full 30 days of our cruising permit island hopping and FINALLY SAILING! After a wild few months of motoring, it was exhilarating to see so many boats on a daily basis with their sails up being carried by the trade winds to nearby destinations.
BVI is certainly not a place to visit on a budget but with its protected waters, consistent trade winds, line-of-sight navigation, and short hops its no wonder the British Virgin Islands are a cruising Mecca! Its ideal sailing grounds are for every level of sailor, however, as full-timers just know you're sharing the water ways with a lot of non-cruisers.
Jost Van Dyke
(pronounced 'yoast')
We made the short sail over to JVD from St. John on May 9, 2019 which is considered "low season", yet was still hectic. Jost is the smallest of the four main islands, stretching only 4-miles but its always buzzing with activity and definitely a party vibe. It's easy to see why ferries full of tourist and private charter boats flock here daily from the USVIs.
Great Harbor – Its great, but not large, you can walk the entire length of it in just a few minutes. We anchored here for two nights and pulled in just in time to snag the last mooring ball. White Bay was too shallow for our 5.5 ft draft and very limited, only Catamarans can squeeze up in through the channel.
The pro to anchoring in Great Harbor is the protection, excellent dinghy dock and the BVI Customs and Immigration office is conveniently located on the beach. Con to anchoring in Great Harbor is in order to get to White Bay we had to take a semi rough (choppy) ride then land the dinghy on the beach while the waves are crashing.
Note: Cruising permit in BVI is 30 days. You cannot extend your visa in Great Harbor, you have to go to Road Town or Spanish Town.
Corsairs – Steps from the beach, features a swing and hammocks. "Pizza Dave" likes to chat and will show you a good time. He tends bar and makes some delicious pizzas. You can also beach your dinghy right in front of Corsairs if you'd like.
Foxy's – After drinks at Corsairs, we attended the Friday night BBQ. Umm, huge portions for the price we probably could have just shared a plate. Foxy's has a long history on the island and is known for throwing the best New-Year's Eve party…our friend Tom from SV Sparidae had a fun story to back this up. Foxy himself is a living legend who greets people and sings calypso music.
White Bay – The color of the water here does not seem real! We visited the famous Soggy Dollar Bar for its signature Painkiller cocktail, which I'm happy to report lives up to its hype. The whole bay is unbelievably beautiful. If you realize going in that its a bit of a cliche touristy destination, then you'll have an amazing time.
The name? Sailors would anchor their boats, swim over to the bar, and pay with wet money. Hence, the name Soggy Dollar.
Ocean Spa – Also located in White Bay is a floating spa! Owner Dale Mapp literally created this pontoon from scraps of metal and other debris scattered around Jost Van Dyke after Hurricane Irma and put it to good use. Genius! Had we spent a few more days in Jost I might have taken advantage of this service.
$65 for 30 minutes, but you can also book a 75-minute sunset couples package—champagne included—for $240. #yesplease
Bubbly Pools – Froths into champagne when the waves of the Atlantic hit the calm Caribbean. Best to visit at high tide to experience the bubbles!
Virgin Gorda
Supposedly "VG" reminded Christopher Columbus of a reclining woman, or "Fat Virgin," inspiring its name. Theres a lot of natural wonders and beauty here. Along with protected national parks and the island's highest point at Gorda Peak.
Spanish Town
Southern point of Virgin Gorda. Small, with few bars and has a relaxed atmosphere. St Thomas Bay anchorage is a rolly one due to the ferry service. $30 for a mooring ball. No designated dinghy dock but you can tie off at the Yacht Harbor (currently under construction) and walk into town.
Long Bay – We didn't make it a night at St Thomas Bay, the ferry traffic that comes through here had us rocking and rolling. Nope. So we found Long Bay on the charts, a short way North. Not only was it gorgeous and protected but secluded…and we got to drop the hook for free. We saw a few boats come and go during the day to see the BVI art reef, which attracts some larger fish. Highest part of the wrecked ship is about 20 ft underwater and easy to see by snorkeling. We swam a bunch here.
Spanish Town Cafe – Great cheap food! Serving breakfast, lunch, and dinner with a Spanish flair. Monica the owner/operator is super friendly! Originally from the DR, she's resided in BVI for 24 years. You must go!
Cocomaya – Off the beaten path but you'll feel like you've been transported to a fantasy island. The bar is really cool, we sat in the swings and enjoyed a great sunset, the beach, the fire pits and free games. Food was average, served tapas style, and pricey.
Rosy's Market – We actually caught a ride from a very nice man from the Spanish Town Cafe to here. On the map it looks close for a walk (22mins) but its very hilly and hot! Decent selection for this island, might need to visit both stores (Bucks/Rosy's) to get what you need.
The Baths – Undoubtedly the most popular attraction in the BVI. The trails have been fitted with wooden ladders and ropes to guide you throughout the 50 million year old boulders!
Hidden passages with shafts are softly lit by rays of sunlight filtering down into the caves. We spent 2 hours exploring, crawling, climbing, playing in pools, and swimming through shallow water passages created by the rocks — an absolute adult playground. >>See Video<<
Prickly Pear/Leverick Bay
Finally some privacy! The BVIs are fantastic, but if you're looking for solitude, its super difficult to find due to the overwhelming amount of vacationers and boats, but we still managed to find some secluded anchorages off the beaten path.
Sadly Bitter End Yacht Club and Saba Rock were completely demolished because of Hurricane Irma, so there wasn't much to explore near Prickly Pear, however we enjoyed the solitude and free anchorage. Across the way is Leverick Bay which was packed with boats on mooring balls. Including sail friends SV Sparidae, Tom & Cynthia, so we trekked crossed the bay to say Hi and go ashore. Good news is Leverick and Prickly are under a ton of construction and rebuilding but there's not a lot here other than the Resort & Marina, a water sports business, and a restaurant, which we heard gets pretty lively at night. We posted up here for a few hours, grabbed a beer, and used the free wifi 🙂
Cooper Island 
A small but stunning little bay that's privately owned. We stayed in Manchioneel Bay and let me tell you it was pretty fabulous and so different than any other place we'd been in the BVI. Major plus is its only accessible by boat, so no ferry traffic and no crowds.
Cooper Island Beach Club – Family owned eco–resort with only 12 hotel rooms. Awesome place with a restaurant, coffee shop, solar powered brewery and rum bar with a crazy amount of rums to try! 230 rums from around the world to be exact! If you're not into rum they make some amazing handcrafted specialty cocktails and the microbrewery offers six craft beers.
Everything was absolutely top-notch. The shrubbery, patio furniture, fixtures, beach setup all are excellent. Classy spot. Great destination.
Peter Island
Quite the opposite vibe of Cooper Island. We picked up a mooring ball in Great Harbour around sunset, this anchorage is wide-open and a deep harbor so it's very well-protected. Its also the new (temporary) home of the famous Willy T's! Which is confirmed to return to its original location off Norman Island sometime next year (2020).
Willy T's Floating Bar
**THIS ATTRACTION IS NOT FOR THE FAINT OF HEART**
The original Willy was destroyed by the hurricanes of 2017 (can be seen beached in its original location). This new Willy T's is a larger version that offers two levels and provides plenty of space to sit and enjoy the views. This barge has been operating in the Virgin Islands for over 35 years and after spending the day at Willy T's with sail friends, SV Sparidae, its clear to see why it's an important component of the BVI tourism.
We took the plunge, and jumped off the second level platform (clothed), had fun singing, dancing, and mostly people watching! But really its kind of a sleazy atmosphere; loud party music in a hard-to-get service bar and bartenders licking whipped cream off of patrons' various body parts…I guess what happens at Willy T's stays at Willy T's. Ha.
However, everyone should experience this once when they are in the area. Oh, and don't anchor too close if you want to sleep!
Norman Island
Home of Pirates Bight Bar and inspiration behind the novel, Treasure Island. Offers over 100 moorings, hiking trails, and dive and snorkel sites.
Benures Bay – This little slice of paradise was one of our favorite anchorages. Secluded and you won't find any mooring balls here. The bay does not have a beach, just a pebble shoreline, where we enjoyed a beach bonfire.
There's a great hiking trail, a 3.3 mile hike that goes over to Money Bay and then carries on to Pirates Bight restaurant.
When we arrived to the Bight, it just happen to be the 18th Leverick Bay Poker Run, which has become a national holiday and the most anticipated nautical event in the British Virgin Islands. It was estimated that 2,000 boaters registered for the run with a $15,000 cash prize split among the top 3 boats. So we joined the party, cooled off in the water, and had a delicious lunch before trekking back to Benures Bay.
Pirates Bight – The anchorage is controlled by the Pirates Bight bar and restaurant on the beach so they are maintained and taken care of. You can anchor around the edges of the mooring field but it can be tricky.
The Indians at Pelican Island – Crystal clear water, great variety of coral and fishes. One of the best reefs in the BVI's . Recommend that you get there early as the moorings fill up fast.
Tortola 
The largest and most populated island in the BVIs. Tortola suffered the most severe destruction during Hurricane Irma. It's been two years since and there's still a significant amount of rebuilding, each town we've been to echos the sound of hammers and buzz saws as repairs continue ashore. The people of BVI are not only strong but resilient and hopeful in restoring what they built before Irma. It's been fascinating hearing their personal stories of survival. Many of the BVI websites/reviews are still pre-Irma, so its wise to still do research on updated info.
There's no such thing as a bad sunset in the British Virgin Islands. Due to its volcanic origin some spots offer a particularly good vantage point to watch the sun dip below the horizon…preferably with cocktail in hand. We saw some of the most incredible sunsets while in Tortola. 
Cane Garden Bay
Crescent shaped beach that stretches the length of the bay and is well protected, unless it's a North swell. There are two reefs as you enter the bay that are well marked by buoys. Dinghy dock was convenient. Ashore you'll find, loungers, umbrellas, and a few beach bars.
Bobbys supermarket + laundry – One of the few places to get provisions on the west side of Tortola. Basic fresh produce is available: Potatoes, Leafy Greens, Tomatoes, onions, etc. Frozen chicken and beef. Attached is the laundry, very clean and with large washer and dryers.
Hodges Gas Station – Public dock on the eastern side, we filled up on diesel, water, and did a trash drop off. Attendant wasn't the friendliest guy so we did all 3 ourselves.
Quito's Gazebo – Quito's is a slick looking place after being rebuilt after hurricane Irma. You can enjoy a Happy Hour drink right on the beach for $3.
Myetts Restuarunt/hotel – Short walk from the dinghy dock if you're moored in Cane Garden Bay. food and drinks are decent but the view is beautiful.
Road Town
Capital of the British Virgin Islands and a popular jumping-off point for many of the ferries servicing the island. This became our hub for for getting things done. Shopping, haircuts, customs, ferries, and marine supplies.
Road Town definitely has a city feel, there were more cars here than any other island we'd been to.
EIS – Flights to Tortola arrive at the Terrance B. Lettsome International Airport. The airport is located on Beef Island, just to the East of Tortola.
Marine Depot – Located near Village Cay Marina, they have a decent selection of marine products, fishing gear, and seem helpful if you need to figure out an issue.
Bobby's Supermarket – In the heart of Road Town so you can get all of your groceries within walking distance. Pay attention to prices or lack thereof. You don't always know the price of what you are buying.
Rite Way – Largest grocery store on the island. A fully stocked store like in the US. They have a nice deli counter too for sandwiches and such. They also provide a provisioning service and will deliver to your boat.
Pancake Paradise – There are three things I look for when I go out to eat at a restaurant and those are. The price of the food, if the meal tasted great and the quality of service. Pancake Paradise checked all three of those. The kitchen structure is in the shape of a dome, quite unique and the dining area is a tent by the sea.
Soper's Hole / West End  
Soper's Hole is a primary port of entry to Tortola and the BVI. I'm sure before the hurricane this was a quaint place. But this area really took a beating. It's open but still recovering from the hurricane. As you enter the harbor you'll pass the West End Ferry Terminal and find a number of mooring balls.
This was our final stop in the BVIs before going to Nanny Cay Marina and importing our boat for the season.
Customs – Government customs office is located at the ferry dock to your port once you are in the harbor. It's best to anchor or pick up a mooring then dinghy in to the customs dock. Monday through Friday from 8:30am to 4:30pm.
Omar's Cafe – The first to open, busy serving up great breakfasts and lunches. Recommend visiting to support the regrowth.
Nanny Cay Marina & Resort 
We spent a lot of time at the Marina and one night in the hotel while prepping for our 2nd summer haul out. >>See Video<<
Docks are great. There is a grocery store to provision. Peg Legs on the beach is a fun restaurant for lunch, dinner or cocktails. Everything you need is an easy walk from the slips/rooms and throughout the resort. Our favorite was the little outdoor cafe smack in the middle of the marina serving up homemade Caribbean dishes daily…and for cheap!
The boat yard was one of the first to open after the storms and has excellent facilities and resources. Work on the hotel continues but we were fortunate enough to stay in one of the brand new completely refurbished rooms. Highly recommend this marina. The staff were extremely pleasant and we appreciated all the amenities; clean showers, laundry, well stocked grocery store and chandlery on-site. Summer rates $1.49 per foot / Winter $1.56 per foot. They offer monthly and seasonal rates.
Anegada
Aka the "Lobster Mecca" of the Virgin Islands.
This tiny beautiful island is in the outer archipelago of BVI and has only a population of 300. Its best known for long stretches of white sandy beaches that did not disappoint us! Unlike its surrounding islands, Anegada is very unique because it's flat and low. Which was like being back in the Bahamas! We had a perfect passage over to Anegada, the weather was just right which made for a great sail and some fishing.
Slight downside was the anchorage, it was super tight so there wasn't much space between boats which consisted of mostly mooring balls but then there were boats anchored out in-between those…the charter boats have no problem hovering right over your anchor. We certainly saw quite a few reckless people during our time here.
Mini Moke – top speed of around 72 mph. Originally, the car was designed for the British Army in the late '50s but instead found a cult following as a beach vehicle. For $80 we rented this for the entire day and explored every inch of the island. Such a fun ride! On the deserted dirt roads you'll run into many local cows, goats and sheep roaming around but our favorite was just stopping off the side of the road to look at some really beautiful views.
Planning a trip to Anegada? @landhrentals_anegada has the perfect ride for you.
From the dinghy dock the first place you'll see is Potters Bar and Lobster House, famous for it's lobster dinner, which in my opinion is pretty pricey considering we can catch them for free – haha. We didn't partake in the dinner but we received a very warm welcome in and had drinks on the beach.
Cow Wreck Beach – Nice remote beach, snorkeling was good, but probably better if you swim out to the reef. Very lively beach bar nearby so the service wasn't the greatest but the shaded beach chairs and view made up for it.
Flamingo Pond Look out – The flamingos are pretty far away, but there's a free viewing scope to see them. SO MANY FLAMINGOS!
Big Bamboo – Laid back lunch in one of the most stunning locations…service was painfully slow, but what can you do…it's "island time." The best part was relaxing in the colorful hammocks under the trees.
Loblolly Bay – A beautiful, majestic place. Easily my favorite beach in all of the Virgin Islands and not a soul in sight! The water was so blue and theres a stunning pink tint because of the pink coral crushed in it. You could easily spend a day here snorkeling, relaxing, having a few drinks at the nearby restaurant Flash of Beauty.
Angeada Beach Club – Set on a tranquil stretch of beach along the Atlantic coast, low-key hotel. We ended the day here sipping bushwhackers and enjoying the (freeee) pool.
That's a wrap! We did it! West Palm Beach, Florida to Tortola, BVI. We ended Season 2 pretty salty; 7 months, 6 countries cleared, and 2,925 NM under our belts.
Cheers from the British Virgin Islands!