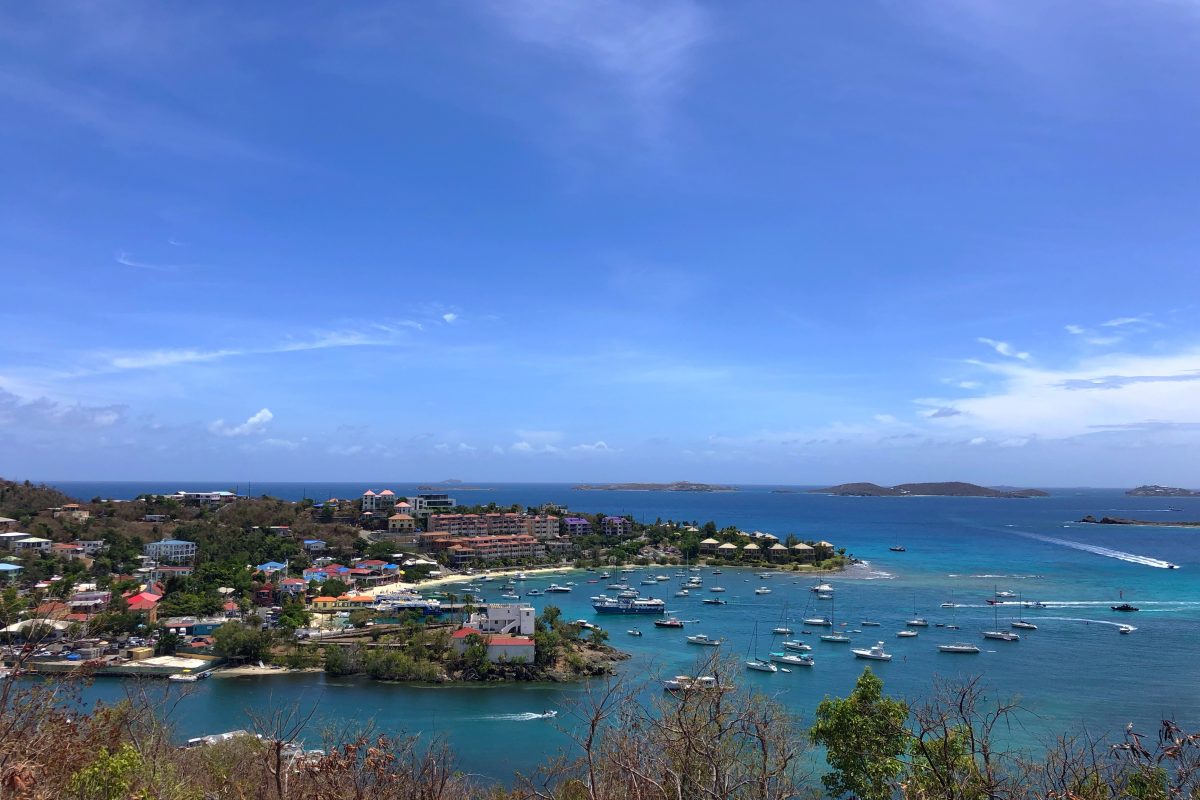 18 Jul 2019
St. John: A Heart for the "Love City"
We've been all over St. Thomas and the British Virgin Islands for the past two months and St. John has been our favorite! We just keep gravitating back here. St. John may be the smallest of the 3 U.S. Virgin Islands but it is strikingly beautiful! 60% of the island is taken up by the VI National Park and with no airport or cruise-ship docks located on the island it makes for some blissful low-key cruising.
Here's what St. John the "Love City" has to offer!
Cruz Bay
Main town on St. John that not only connects the ferries from St. Thomas and the British Virgin Islands but offers many restaurants, bars, stores, and vacation villas.
For updated ferry information, check out VINow.
The first private mooring field we'd come across, but you can pick up a mooring ball just outside at Caneel Bay and dinghy into Cruz Bay. We did this often. I can't say its super close (depending on dinghy range) but they do have 3 very nice dinghy docks to choose from that are right in the heart of downtown.
Tap & Still – Third location and again, our favorite. Grab a table, write your order on the slip yourself and it's easy as that. Happy hour too!
Tap Room – St. John brewery and brew pub, we enjoyed every beer we tried here. Especially the VI Tropical Mango. You can do flights, sample pours, or full pours. They also have 32oz "crowlers" that you can get to-go. Make sure to order the warm bavarian pretzels WITH cheese as you sit and sip.
De' Coal Pot – This was recommendend by a local guy. The menu offers more traditional carribean foods. Didn't love it, didn't hate it. I think we are just really spoiled from our time in the Dominican Republic. Nothing compares to DR rice, beans, and plantains. Note: theres an automatic gratuity added no matter party size.
Longboards – New addition to Cruz Bay post Hurricane Irma. Coastal cantina with creative cocktails, tacos, fresh poke bowls and ceviche. We enjoyed all of the small plates and frosé! Theres a daily Happy hour from 3p – 6p.
Greengos – A little play on words with a fabulous interior! The biggest plate of nachos I've ever seen. Plus the $5 Cadillac Margarita is all the rage.
Banana Deck – Sunday funday right here! They offer a bottomless 'pour your own' Bloody Mary and Mimosa Bar (11-3p). Just a short walk from downtown Cruz Bay and you get a great view from the upper level of the bar.
High Tides – Beachside bar + grill that offeres a fantastic brunch menu. Highly recommend the Chicken and Waffles and Biscuits and gravy. Great spot to grab a celebratory drink arriving on St. John, or the farewell drink waiting to depart on the ferry.
Dolphin Market – Not a huge market, but the quality of their meats and produce is very good. Not to mention well very stocked!
Iriepops – Refeshing ice pops on a hot summers day, yes please! We've stopped in a few times and each time has been fantastic. Not only for the pops but the service and hospitality from the owners. This place is not only fun and colorfully decorated but their ice pop flavors are creative and delicious!
The Terrace – We treated ourselves to some fine dining on our last night in the Virgin Islands. Had some amazing food, drink and conversation with sailfriends SV Lady Sun Dream. Happy hour is decent, but only an hour long, so don't delay! Ordered the crab stuffed prawns for my meal, which was superb! Wonderful wait staff, always kept our drinks full. ($$$$)
St. John Festival (4th of July) – Annual month long event packed with music, fairs, art crafts & parades. For our last week in St. John we got to participate in the final week of the festival, usually scheduled around Independance Day, which is party time with the big events in the village, fireworks, food and J'ouvert!
Hawksnest Bay
Closest beach to Cruz Bay. Beautiful and very quiet with a beach pavillion. We never had more then 2 other boats in this anchorage so its peaceful and spacious. Hawksnest isn't as protected as some of the other beaches. So expect a bit of swell. Depending on the tide, it can be a very narrow beach as well.
We anchored twice in Hawksnest Bay, one of which we stayed over night and the other just for a few hours to access Peace Hill Trail. Easily land the dinghy on the beach and tie off. Its wise to use a dinghy anchor here. Walk up towards Northshore Road, and its about half a mile past Hawksnest. Peace hill is a low impact / moderate incline trail but really rewarding! From the grassy clearing you can see a great view of Cinnamon, Great Thatch, Tortola and Jost van Dyke. It's one of five plantaions in St. John that employed wind power in the production of sugar.
If you take the other trail halfway to the windmill on the right hand side, it'll lead you down to this secluded beach (Dennis Bay). The path has many fist size hermit crabs – We've never seen so many in one place!
Maho Bay
Maho beach has it all and is our favorite anchorage in all of St. John. Fantastic protection, towering hills, white sand beach, light surf, shallow entry and easy access into town via the Safari ($7). The eastern/western shorline makes for some great snorkling.
Overall, it's just insanely gorgeous and relaxing! A popular spot no doubt so theres a nearby parking lot and restrooms. Lots of vactioners venture here for the perfect beach day. However, by 4-5pm it clears out.
Mooring pay station is located between St. Francis and Maho $26 a night everywhere in St. John.
Maho Crossroads is across the street with a tiki bar, chairs, couches, picnic tables and a VW bus food truck serving up hamburgers and hotdogs. Very convenient but a little pricey.
Sea Turtles – The underwater world is truly magnificent in St. John. Lot of sea turtles and rays that feed in the sea grass just off the beach. It's amazing how many there are. Even if you are just sitting on the beach or swimming you can see there heads pop up.
We also spent my 33rd birthday (Cinco de Jesso) in Maho Bay! Such a fun day with sailfriends SV Borealis and two friends from Los Angeles! We lounged on our giant Costco float, played beer pong, and just let the day slip away in paradise. It was perfect!
Cinnamon Bay
Next door to Maho. Cinnamon is beautiful and offers plenty of elbow room – which we love! Here its totally normal for you to have a 100 yards of beach completely to yourself. We anchored here twice and never even had a boat neighbor.
Some of our best beach days have been at Cinnamon, just us relaxing under the umbrella while sipping on a spiked seltzer. Brent building his beach hut and I admiring all the pretty shades of blue. The foliage is still a little torn up from the hurricanes but this beach is still a beautiful slice of St. John. Unlike its neighbor, Maho, there are no facilities except a parking lot and some porta-potties.
Note: Little to no cell phone reception here
Cinnamon Bay Trail – From the beach we walked up towards the main road (Rte 20 – North Shore Road) where you'll immediately see signs for the nature trail but if you continue up the hill you'll see the entrance for the Cinnamon Bay trailhead which will lead you through the tropical landscape of St. John and up to the American Hill Ruins lookout. A beautiful, but steep 2-mile hike with about five switchbacks before reaching the top. Well worth the effort and you'll get a stunning view of the Caribbean sea!
Coral Bay
Located on the southeastern side of the island. It's a bit quirky and the opposite of the bustling town of Cruz Bay. We stayed in Princess Bay for two nights. Which is surrounded by pretty mangroves in a hurricane hole. It's a highly preserved area that is part of the National Park Coral Reef Monument. The upside is it was very scenic and still, downside was the lack of breeze and misquitos.
We dinghied into Coral Harbor from Princess Bay (1.6 miles). Honestly, theres not much here. The bay itself is kinda sad, lots of derelict boats and the dinghy dock is in poor condition. Not ideal to get around by foot, no place to throw out trash or re-fill on water but there are two restaurants.
Skinny Legs – Quintessential island bar that offers free wifi and daily specials. We had a working lunch one of our days there and ordered the blue cheeseburger with chips, pretty tasty. The strawberry margarita was pretty great too!
Note: They don't do frozen drinks.
Rounding the cape of Drunk Bay on our way to Great Cruz Bay has some really stunning views. Some of the most dramatic scenery we'd seen in the Virgin Islands. Its rugged coral and stone shoreline reminded me a lot of sailing through the Dominican Republic.
Ram Head Trail – The history here dates back to 1733, slaves on St. John rebelled and took control of the island for six months until French troops arrived from Martinique to put down the rebellion. Rather than being captured, according to legend, 300 slaves jumped to their deaths from the cliffs.
It's just under a mile long following a narrow path that winds its way down to the coast line of Cobblestone beach and then up to the top. The trail comes to a dead end at a tall rocky cliff with spectacular ocean & landscape views. Overlooking 200 feet above the Caribbean Sea where the nearest coastline is . . . Africa. The dramatic views make this hike worth the effort!
Great Cruz Bay
Also a private mooring field. However, some sail friends were able to get us a mooring ball for a few nights since a charter boat was out for the week. Lucky us! It offers good protection but other than that theres not much here except The Westin Resort, which is beautifully manicured and goes for about $459 a night! And the St. John Gourmet Market which is definitely worth the walk and you can just cut through the Westin property to get there.
It's now June and starting to get HOT! So we decided to visit (pool crash) The Westin for a pool day! It was easy to land our dinghy ashore (stay to the right near the water sports area) and walk right in. We weren't exactly  villa "guest" but we did buy a cocktail or two at the bar to make up for it. So worth it! On Saturdays they do free rum tasting.
Waterlemon Bay
Not to be confused with Watermelon. At first glance it's easy to mispronouce it but it is in fact Waterlemon bay. Voted one of the top snorkeling spots on St John. We picked up a mooring for one night and immediately jumped in to snorkel. You can definitely feel the pull of the current which makes it a little more challenging. Fins are a must! The water is fairly clear, good amount of fans, coral and plant life, and a good variety of sea creatures – spotted eagle rays, squid, fish, urchins, puffer fish. The reef is beautiful on one side of the cay, but sadly you can notice that its been wrecked by the hurricane on the other.
St. John is incredible when it comes to natural beauty, both on land and underwater. This island has been so so good to us and we can't wait to return!
Cheers from the Virgin Islands!